My homemade enchilada sauce is the perfect shortcut for this easy mole sauce, which can be made in about 15 minutes. Set aside about an hour and a half for the enchiladas, which are stuffed with roast butternut squash and black beans.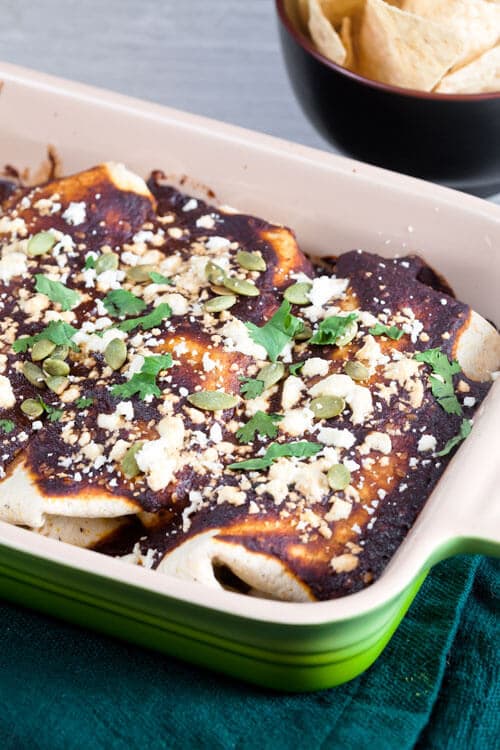 There's a Mexican restaurant down the street from the house where I grew up. We never ate there, but I always heard that it was great. There was also a rumor going around school that they served chicken with chocolate sauce. Although my friends and I were convinced that it was probably gross, I secretly wanted to try it.
It wasn't until I was in college that I ate at a restaurant with mole sauce on the menu. The description said it was made with dried red peppers, raisins, almonds and Mexican chocolate and I realized that must have been the "chocolate sauce" we used to talk about. Obviously, I had to order it. To be honest, that first time I was kind of disappointed. I don't really know what I was expecting, but it wasn't sweet and it definitely didn't taste like chocolate. Since then, though, mole sauce has definitely grown on me. It's earthy and complex and is my absolute favorite way to top pork tamales.
I've wanted to try my hand at homemade mole sauce for a while, its reputation for being complicated and taking a long time had always prevented me from going for it. When I decided it would be a fun recipe to make leading up to Valentine's Day* and started researching recipes, I realized there was actually a lot of overlap with my recipe for homemade enchilada sauce. Starting with that sauce as the base for my easy mole sauce shaves off time and reduces the number of ingredients needed.
I served the mole sauce over enchiladas stuffed with roast butternut squash, black beans, and spinach. I love the way the sweet squash balances out the earthy sauce, but they would also be delicious with chicken. Whichever way you serve it, you should definitely give it a try!
*chocolate at dinner would free up the dessert course for my favorite lemon s'mores cupcakes, right?
Ingredients
1

medium butternut squash

peeled and diced (about 6 cups)

1

tablespoon

olive oil

2

cups

homemade enchilada sauce

¼

cup

raisins

½

teaspoon

cinnamon

1

ounce

dark chocolate

1

tablespoon

almond or peanut butter

2

tablespoons

toasted sesame seeds

1

tablespoon

olive oil

1

clove

garlic

minced

1

onion

chopped

1

can black beans

drained

4

cups

baby spinach

8

flour or flour-corn blend tortillas

enchilada size

4

ounces

queso fresco

pumpkin seeds and fresh cilantro

to serve
Instructions
Heat oven to 420ºF. Arrange the squash in a single layer on a baking sheet and drizzle with 1 tablespoon olive oil. Bake 20 minutes, or until tender and slightly browned. Reduce the oven temperature to 350F.

While the squash roasts, prepare the sauce: In a medium saucepan, combine the enchilada sauce, raisins, cinnamon, chocolate, nut butter, and sesame seeds. Bring to a simmer; cook 10 minutes, or until raisins are plump. Transfer to a blender and blend until smooth.

Heat the remaining oil in a skillet set over medium heat. Add the onion and garlic and cook 1-2 minutes, or until softened and translucent, but not brown. Add the beans and spinach and cook until heated through. Stir in the roast squash and 1/4 cup mole sauce.

Spoon about 1/4 cup of mole sauce into the bottom of a baking pan. Spoon 3/4 cup of filling into each tortilla; roll up and place seam-side down in the baking pan. Top with remaining mole sauce and crumbled queso fresco.

Bake for 15 minutes.. Top with pumpkin seeds and fresh cilantro.
Nutrition Facts
Butternut Squash Enchiladas with Easy Mole Sauce
Amount Per Serving
Calories 395
Calories from Fat 135
% Daily Value*
Fat 15g23%
Cholesterol 10mg3%
Protein 12g24%
* Percent Daily Values are based on a 2000 calorie diet.