Baked Thai Peanut Chicken Wings will leave everyone at your next tailgating party licking their fingers and asking for more. I created this recipe for my client, Gourmet Garden, and I hope you love it as much as we do!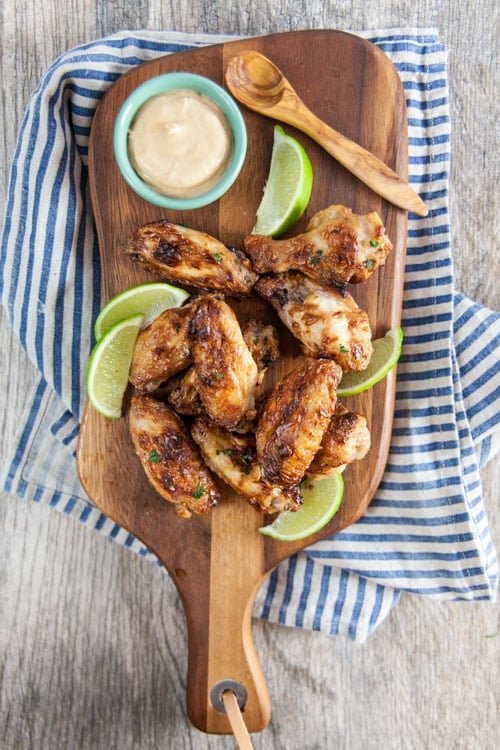 I don't know what's gotten into me, but I've been eating chicken wings like a boss lately. They're just so good, plus they make any occasion seem like a party! It's also really fun to come up with different flavored sauces to toss them in.
These Baked Thai Peanut Chicken Wings are my latest creation. They're great for entertaining – a define crowd-pleaser, super simple to whip up, and can even be prepared ahead – but you can also serve them with rice and a green vegetable for an easy and tasty dinner.

To make these baked Thai peanut chicken wings, you'll start by making a Thai-inspired peanut sauce. This sauce is so good! We had some left over and ended up dipping anything and everything into it. Spring rolls, quinoa crusted chicken fingers, dumplings, celery sticks, a spoon…it's all good. Marinate the chicken wings in half of the sauce, and save the rest for dipping – trust me, you'll want it! (Be sure to set aside your dipping sauce before you add the wings to avoid cross contamination.)
The Thai peanut sauce is really simple and uses ingredients that I always have on hand. The secret to giving it tons of flavor without needing a zillion ingredients is to use Gourmet Garden's Thai Seasoning Stir-In Paste. I swear by their garlic and ginger pastes, but only recently discovered the Thai seasoning. It's a mixture of shallot, ginger, lemongrass, coriander, and chili pepper and I'm completely smitten. In addition to these wings, I use it to make Thai Turkey Lettuce Wraps, add it to chicken noodle soup, whisk it into homemade salad dressings, and even use it as a condiment on turkey sandwiches.