Did you know that baking powder is the key to super crispy baked chicken wings? It's true! We're obsessed with these shatteringly crisp baking soda chicken wings tossed in a citrus-y margarita glaze and topped with a smattering of salt.
---
Baked, not fried. Baked chicken wings are lower in fat and calories than their fried counterparts, so you can eat more. No special equipment needed!
Super crispy. If you've never made baking powder wings before, that needs to change now. They come out so crisp and delicious you'd never know they weren't deep fried.
Unique. I love a good Buffalo wing as much as the next Upstate New Yorker, but we're going with a more tropical vibe this time with a zippy margarita glaze.
Party Fowl: Margarita Glazed Chicken Wings with a Tropical Twist
These ultra crispy chicken wings are baked to perfection and coated in a sticky-sweet and tangy margarita glaze, that will transport your taste buds to the Mexican riviera.
Since no margarita is complete without the salt, a smattering of crunchy sea salt is the perfect finishing touch.
Not only are they tasty, but since they're baked instead of fried, they're are also a healthier alternative to traditional fried chicken wings! Whether you're hosting a game day party, a backyard BBQ, or just looking for a tasty snack, these wings are sure to be a hit.
Ingredients and substitutions:
Chicken wings. I like to use a combination of drummies and flats, but you can use whole wings if that's your jam.
Aluminum-Free Baking Powder. This is the key to super crispy baked wings! Note that it's important to use aluminum-free baking powder in this recipe, to avoid any bitter or metallic taste. You can find this in most major supermarkets. Additionally, DO NOT use baking soda, which will give the chicken wings an off flavor.
Tequila. Tequila has an unmistakable flavor that's key to getting that classic margarita taste. We simmer it to cut the alcohol. If you avoid alcohol, there are quality non alcoholic tequilas that you can swap in. You can replace it with water or use an extra orange for a more fruit forward glaze.
Honey. My sweetener of choice!
Fresh Orange, Lime, and Lemon juices. Nothing beats a fresh squeezed margarita mix! If you insist on using bottled juices, go for the lemon and lime juice. Fresh OJ is a must in this recipe!
Hot Sauce. My instinct was to grab a bottle of Cholula, which you can see in the photo, but I was wrong. We both thought they were way better with Tabasco, which is thinner and more vinegary.

How to Make Them:
Pat the wings dry. This is important since it prevents the baking powder from getting gummy.
Toss the wings in baking powder until they're lightly coated. I like to use a large ziplock bag for this, shake-and-bake style.
Bake the wings in a super hot oven until they're crispy and cooked through.
Simmer the tequila, orange juice, lemon juice, lime juice, and honey to form a thick glaze.
Brush the glaze onto the wings and cook a few more minutes until the wings are golden brown.
Slather on even more glaze and sprinkle with sea salt.
Cooking Tip
Elevating the wings while they bake allows air to circulate around them, giving you even crispier results. You can use a turkey rack, cooling rack, or broiler pan for this. Be sure to place it on top of a rimmed cooking sheet to catch any drips as the fat renders!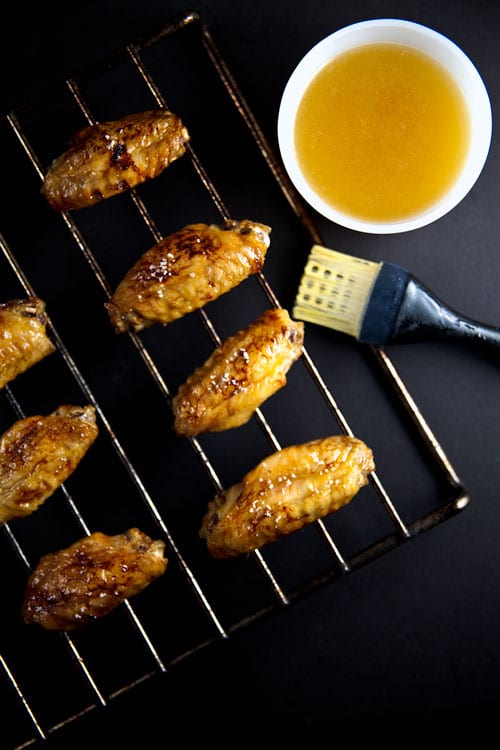 Commonly Asked Questions
How should I store leftovers?
You can store leftovers in the fridge for up to 4 days, but they will lose a lot of their crispness. These wings are best served immediately!
Can I make them in the air fryer?
Yes! Air fry the wings at 400ºF for 15 minutes, shaking the basket at the 10 minute mark. Brush with glaze and cook another 8-10 minutes, or until cooked through. As always, be sure not to overfill your air fryer basket; you need to leave some space around the wings for the hot air to circulate.
Do I have to use tequila?
Nope! As discussed above, you can use a non-alcoholic alternative or just use more juice.
Can I use baking soda?
No. This is not negotiable. Baking soda will make your wings crispy, but it will also give them a gross metallic flavor. Same goes for using baking powder that isn't aluminum free.
Why does this work?
Science! Baking powder is a base on the PH scale and as such, it make the chicken skin more alkaline. it also works to draw moisture out of the meat (like salting a steak). Both of these factors work together to help the skin blister and brown just like it had been deep fried. It's like magic!
Crispy Baking Powder Chicken Wings With Margarita Glaze
Baking powder if the secret to the crispiest baked wings ever. You're going to love them! Slather them in Franks or do what I did and make a citrusy margarita glaze. Most of the alcohol in the glaze will evaporate during the cooking process, but if you prefer to cook without it you can substitute the juice of an additional orange or add 1/4 cup of water.
Print
Pin
Save
Saved!
Ingredients
24

chicken wing pieces

2

teaspoons

aluminum-free baking powder
For the margarita glaze
¼

cup

tequila

¼

cup

honey

2

limes

juiced

1

orange

juiced

1

lemon

juiced

¼

teaspoon

coarse sea salt

hot sauce

like Tabasco for serving, optional
Instructions
Heat your oven to 450ºF. Line a baking sheet with foil and set a baking rack on top. Spray generously with cooking spray.

Use a paper towel to pat the wings dry.

Add the wings, baking powder, and a pinch of salt to a large ziplock bag. Shake vigorously to lightly coat the wings.

Arrange skin-side up on the baking rack. Let rest for 15 minutes.

Bake for 30 minutes, or until the skin is crisp and the chicken is cooked through.

Brush about half of the glaze onto the wings; cook another 10 minutes, or until the wings are golden brown.

Remove from the oven and brush with remaining glaze. Sprinkle with coarse sea salt.

Serve with hot sauce, if desired.
To make the margarita glaze
While the wings cook, combine the tequila, honey, orange juice, lemon juice, and lime juice in a small saucepan. Bring to a simmer to a simmer and cook for 10 minutes, or until reduced by about a third.
Nutrition Facts
Crispy Baking Powder Chicken Wings With Margarita Glaze
Amount Per Serving (4 wings)
Calories 516
Calories from Fat 279
% Daily Value*
Fat 31g48%
Cholesterol 148mg49%
Sodium 344mg15%
Potassium 395mg11%
Carbohydrates 19g6%
Protein 36g72%
Vitamin A 347IU7%
Vitamin C 29mg35%
Calcium 143mg14%
Iron 2mg11%
* Percent Daily Values are based on a 2000 calorie diet.