These tropical green smoothies are creamy and sweet. Close your eyes and you can almost feel the ocean breeze.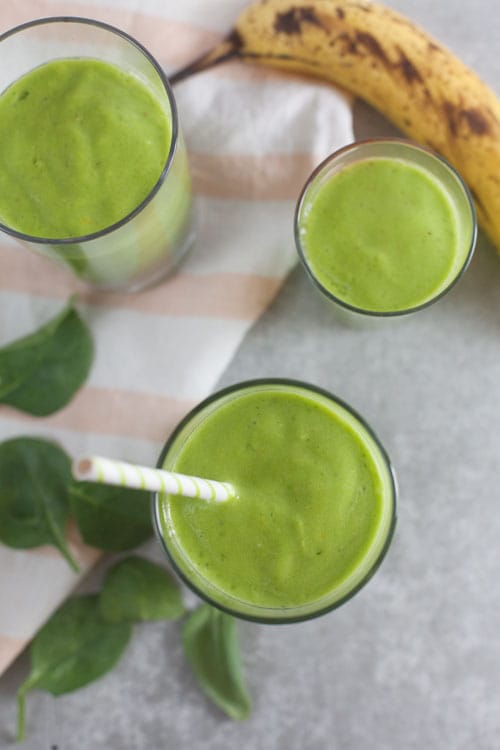 I really wanted to share these tropical green smoothies last week for St. Patrick's Day, but life got busy and I had to reshuffle some posts. The minty green color would have been perfect, but it's also great as a simple celebration of Spring.
Even though the winter was relatively mild (save that one awful weekend) I'm still super excited that Spring sunshine is finally here again! Now that it's a little warmer out, I've been trying to get back into the routine of starting my day with a green smoothie. I love feeling like I'm doing something good for my body first thing.
This tropical green smoothie has been one of my favorites lately. They're simple to make and the sweet, creamy flavor reminds me of a beach vacation. (All that's missing is a paper umbrella and a splash of rum, although rum at 8am probably isn't an awesome idea.)

I got really into green smoothies last summer and after a lot of trial and error I've figured out a few key tips to ensure success.
My biggest tip for making green smoothies is to add the liquid and greens first and blend them until they're totally smooth before adding in any solid ingredients. That way the greens get really incorporated and you won't end up with any solid pieces in your drink.
My second biggest tip is to make them ahead for the whole week. I'm NOT a morning person, so I'm all about this tip to save precious time (plus it means only having to wash the blender once.) I make a huge batch of smoothies, then pour them into mason jars and stick them right into the freezer. At night, I move one smoothie into the fridge so it can start to defrost – by morning it'll be perfectly slushy and ready to go. I pop on one of these neat lids, slip in a straw, and am on my way.
Lastly, I recently discovered that using dried dates to sweeten your smoothie make them taste amazing. Dates add the perfect touch of natural sweetness without adding a ton of pronounced flavor like maple syrup or honey would. Depending on what other fruit you're adding and how sweet it is, one or two dates will sweeten an entire batch of smoothies.

Tropical Green Smoothies
I buy mixed bags of frozen pineapple and mango at Aldi, but you can also buy them separately and use 1 cup of each.
Print
Pin
Save
Saved!
Ingredients
2

cups

coconut milk

2

cups

baby spinach

2

dates

1

banana

2

cups

frozen pineapple and mango chunks

chia seeds

flax meal, hemp, or other mix-ins of your choice
Instructions
Add the coconut milk and spinach to your blender. Cover and blend on high 20-30 seconds or until the spinach is completely blended not the milk.

Add the banana, date and any mix-ins that you like and blend another 10 seconds, or until smooth.

Finally, add the frozen pineapple and mango. Blend on high, using the tamper to press the fruit into the blades of the blender, until smooth.

Drink immediately or freeze for later.