Celebrate the flavors of summer with this easy puff pastry pizzas topped with seasonal vegetables and fresh pesto.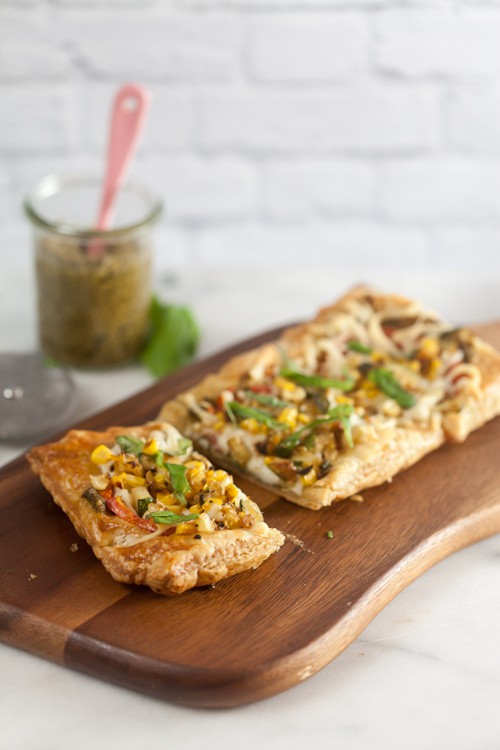 Zucchini. Corn. Tomatoes. Basil. I'm pretty sure every meal I've eaten this week has included some combination of those ingredients. I absolutely love how amazing produce tastes this time of year! Throw in a juicy peach for dessert, and you'll wish that it could be August for forever.
These puff pastry pizzas turn the best of the season's produce into an easy, fresh, and flavorful dinner that everyone will love.
Frozen sheets of puff pastry are perfect as a crust for these pizzas – they're light and flaky so, unlike a heavier crust, they really let the flavor of the produce shine though. Spread the partially baked pastry with fresh pesto and top it with thinly sliced summer tomato, lightly sautéed zucchini and corn, and plenty of GO Veggie! lactose free mozzarella shreds.
Sautéing the vegetables serves two purposes. First, it adds a little char to the vegetables and gives them extra flavor. It also allows the natural juices to concentrate and evaporate, so the pastry crust doesn't get soggy.

To keep things on the lighter (and lactose free!) side, I used GO Veggie! lactose free mozzarella shreds and parmesan topping. The mozzarella shreds adds tons of cheesy flavor to the pizzas without being heavy or greasy like dairy mozzarella can be. They're also lower in calories and fat, and have more vitamin A, D, and calcium!
I use the lactose free Parmesan topping in my pesto and also add more to the top of the baked pizzas. This is one of my favorite GO Veggie! products – I always have a shaker in my fridge to use as an easy way to perk up vegetables. Just like the mozzarella, it's lower in calories and fat and higher in calcium than dairy cheese.
Look for both products – along with the rest of the GO Veggie! line – in the produce section of your favorite grocery store.
Ingredients
1

package

2 sheets puff pastry, thawed

1

egg

beaten

1

tablespoon

olive oil

2

ears corn

2

small zucchini

cut into a small dice

cracked black pepper

4

tablespoons

pesto

below

1

large tomato

thinly sliced

2

cups

GO Veggie! lactose free mozzarella shreds

chopped fresh basil and GO Veggie! parmesan

for topping
For the pesto:
1

cup

fresh basil leaves

¼

cup

GO Veggie! lactose free parmesan topping

1

tablespoon

pine nuts

1

garlic clove

minced

¼

cup

olive oil
Instructions
To prepare the pesto, add the basil, parmesan topping, pine nuts, and garlic to a food processor. Cover and pulse several times to form a thick paste. Scrape down the dies, if needed. With the motor running, drizzle in the olive oil. to store, cover with a thin layer of olive oil and refrigerate up to 3 days.

Heat your oven to 400F. Unroll the puff pastry and cut each sheet in half, cross-wise, and place on a baking sheet lined with parchment or a silicon mat. Leaving a 1/4 inch border around each sheet, dock the pastry several times with the tines of a fork. Bake 10 minutes.

While the pastry cooks, heat the oil in a large skillet set over medium-high heat. Cut the corn kernels away from the cob and add them to the hot pan. Add the zucchini and cook 5-6 minutes, or until lightly charred. Season with cracked black pepper.

Brush the partially-baked puff pastry with the egg, then spread 1 tablespoon of pesto onto the center of each piece. Top with tomato slices, mozzarella, and sautéed vegetables.

Return to the oven and bake 8-10 minutes, or until the pastry is golden brown and the cheese is melted.

Remove from the oven and top with chopped basil. Serve with additional parmesan topping.
Notes
Most commercial brands are dairy free, but higher end brands sometimes use butter. If you're lactose intolerant, be sure to check the label!
I created this recipe for my client, GO Veggie! As always, thank you for supporting the brands that keep me inspired in the kitchen.