Celebrate the flavors of summer with this easy puff pastry pizzas topped with seasonal vegetables and fresh pesto.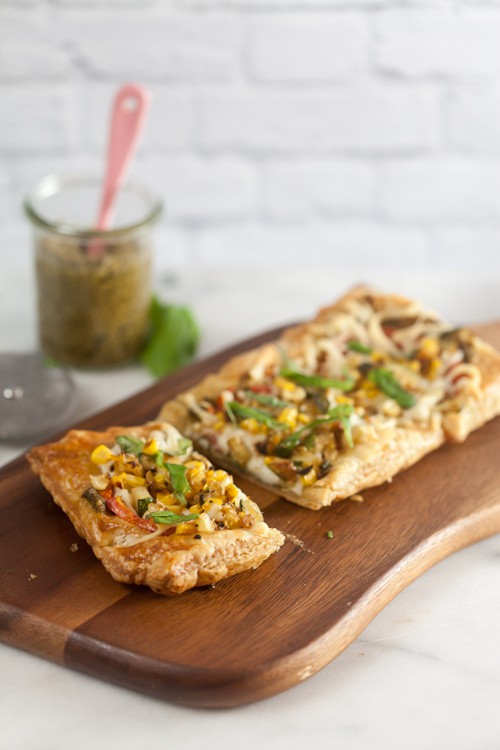 Zucchini. Corn. Tomatoes. Basil. I'm pretty sure every meal I've eaten this week has included some combination of those ingredients. I absolutely love how amazing produce tastes this time of year! Throw in a juicy peach for dessert, and you'll wish that it could be August for forever.
These puff pastry pizzas turn the best of the season's produce into an easy, fresh, and flavorful dinner that everyone will love.
Frozen sheets of puff pastry are perfect as a crust for these pizzas – they're light and flaky so, unlike a heavier crust, they really let the flavor of the produce shine though. Spread the partially baked pastry with fresh pesto and top it with thinly sliced summer tomato, lightly sautéed zucchini and corn, and plenty of GO Veggie! lactose free mozzarella shreds.
Sautéing the vegetables serves two purposes. First, it adds a little char to the vegetables and gives them extra flavor. It also allows the natural juices to concentrate and evaporate, so the pastry crust doesn't get soggy.

To keep things on the lighter (and lactose free!) side, I used GO Veggie! lactose free mozzarella shreds and parmesan topping. The mozzarella shreds adds tons of cheesy flavor to the pizzas without being heavy or greasy like dairy mozzarella can be. They're also lower in calories and fat, and have more vitamin A, D, and calcium!
I use the lactose free Parmesan topping in my pesto and also add more to the top of the baked pizzas. This is one of my favorite GO Veggie! products – I always have a shaker in my fridge to use as an easy way to perk up vegetables. Just like the mozzarella, it's lower in calories and fat and higher in calcium than dairy cheese.
Look for both products – along with the rest of the GO Veggie! line – in the produce section of your favorite grocery store.


I created this recipe for my client, GO Veggie! As always, thank you for supporting the brands that keep me inspired in the kitchen.