Mediterranean tuna salad with chickpeas is an easy meal prep recipe for weekday lunches. A brightly flavored lemon-mustard dressing makes it extra delicious without any mayonnaise.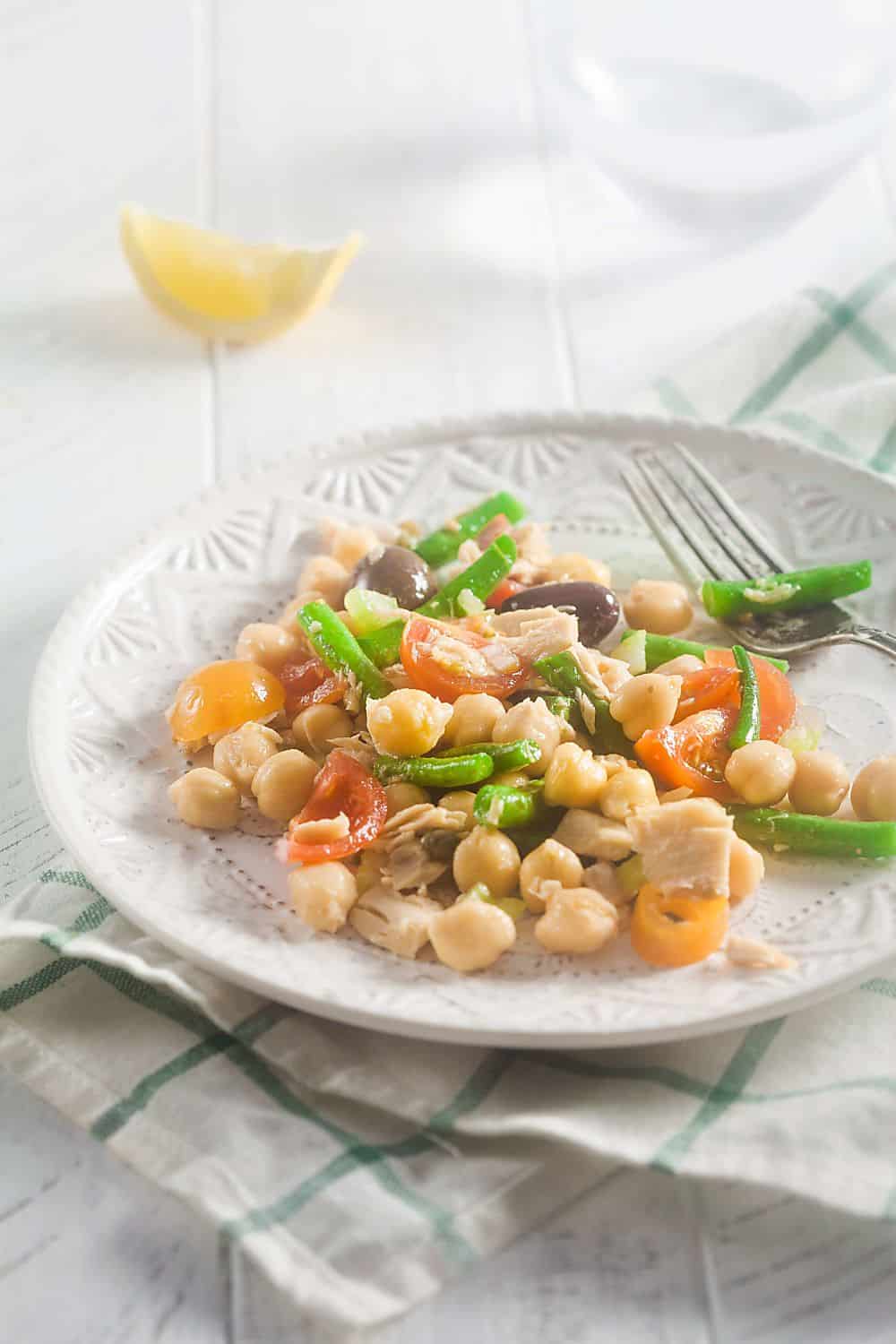 I'm a sucker for cute packaging. I know it's silly, but they always draw me in.
For some reason, tuna of all things always seems to have the cutest cans! The Trader's Joe's packaging is especially adorable, but I also love this Bella Portofino packaging. (I got these as samples, but you can buy it at Shop Rite.)
The problem is that I usually buy tuna, then let it sit in my cabinet for ages before finally tossing it into some pasta sauce with capers and feta. Which is delicious, but a little boring.
Back in the summertime, I had a delicious Nicoise salad with seared tuna at Busboys & Poets in DC. It had a bright, lemony dressing that reminded me of the ones in my mayo-free chicken salad.
I was inspired to use those same flavors in this mayo-free tuna salad that's perfect to prep ahead for a week of packable lunches.
How to make Mediterranean Tuna Salad
This tuna salad is really easy, and it's the kind of recipe that gets better as it sits in the fridge and the flavors meld. It has a fantastic combination of creamy, salty, fresh, and tangy flavors.
Since the ingredients are so simple, it's important to use the best ingredients you can. I use fresh green beans, heirloom tomatoes, and organic lemons.
I always look for tuna that's packed in olive oil instead of water, but you can use whatever your favorite happens to be. Tuna in oil has a little more fat, but I personally think it has a better texture (silkier, less dry) and a more mellow flavor that makes it worth it.
If you have them, this salad is also delicious with two chopped hard boiled eggs mixed in. I don't usually bother only because I hate making them.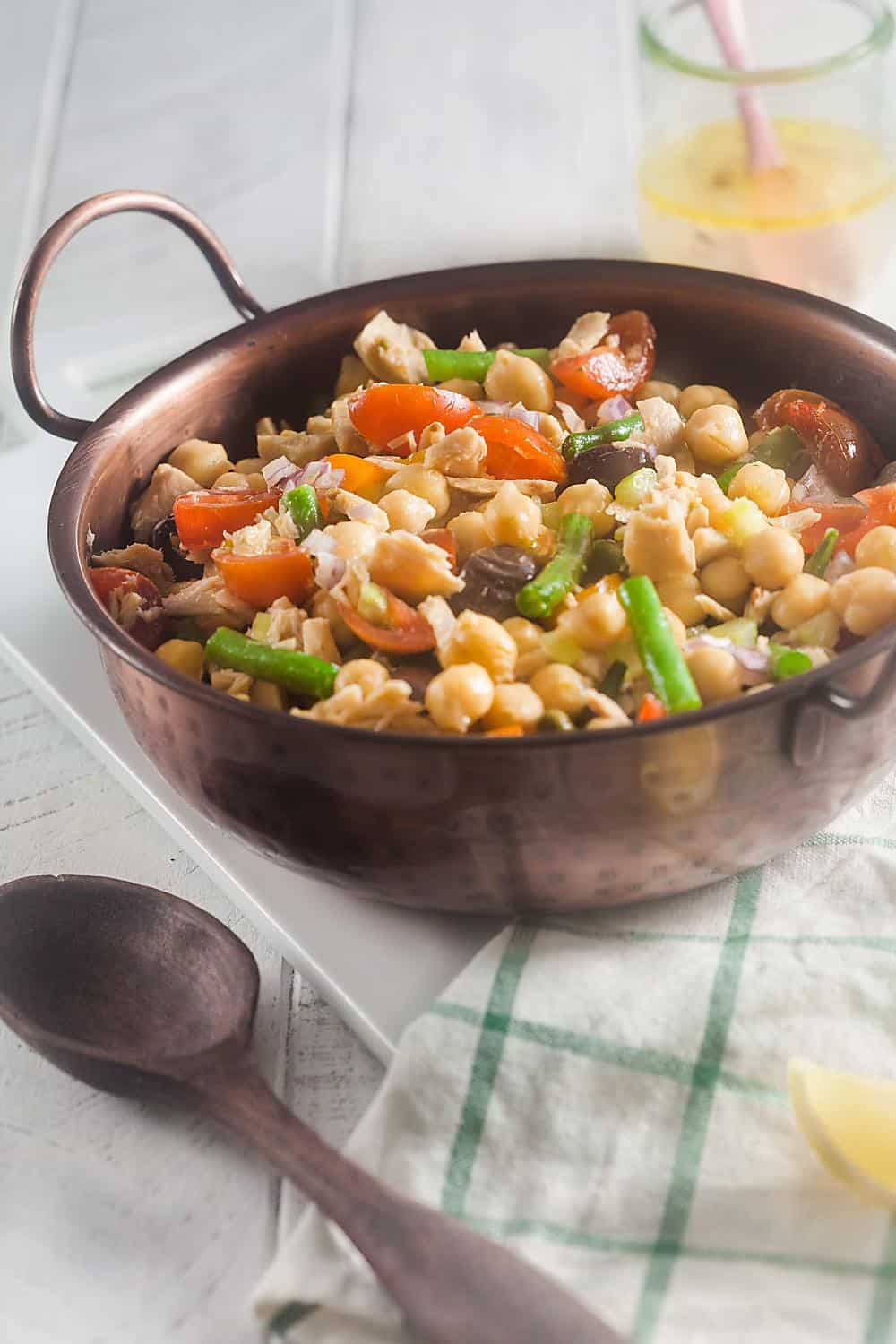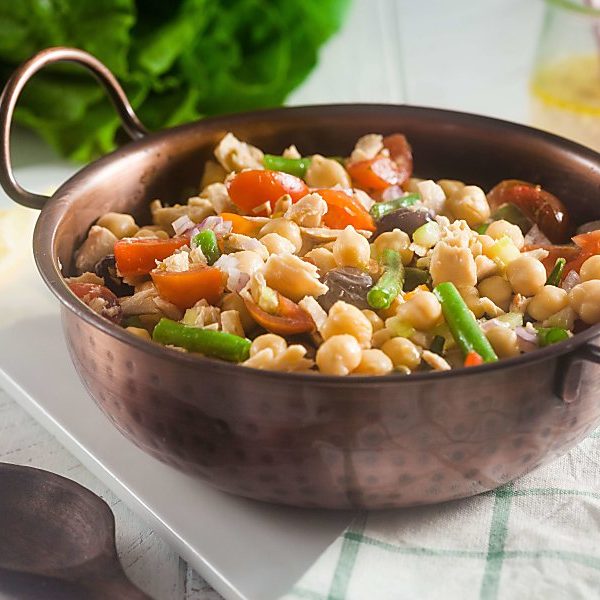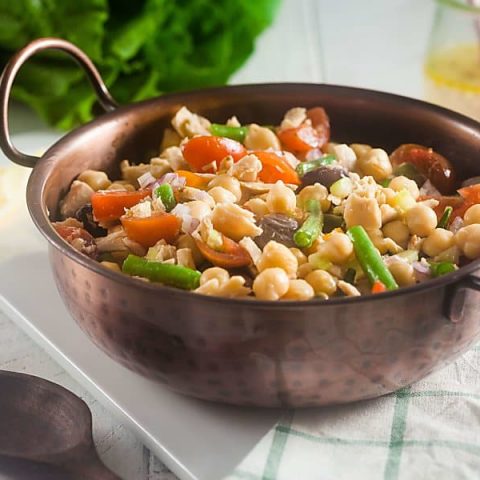 Nicoise Tuna Bean Salad
Additional Time:
10 minutes
Ingredients
1/4 pound fresh green beans, trimmed and cut into 1-inch pieces
1 can chickpeas, rinsed and drained
1 can tuna, preferably packed in oil, drained
1 cup diced fresh tomatoes
1/4 cup Nicoise or kalamata olives, pitted
2 celery ribs, thinly sliced
 2 lemons, juiced
2 Tablespoons Dijon mustard
1/2 shallot, minced
2 Tablespoons olive oil
salt and pepper
Instructions
Bring a small pot of water to a boil. Add the green beans and cook for 3-4 minutes, or until bright green and tender crisp. Drain and immediately run under cold water to stop the cooking process.

In a medium bowl, combine the green beans, chickpeas, tuna, tomatoes, olives, and celery. Mix well.

In a small bowl, whisk together the lemon juice, mustard, shallot, and olive oil. Pour the dressing over the salad and mix to combine. Season to taste with salt and pepper. Serve immediately, or refrigerate.

By