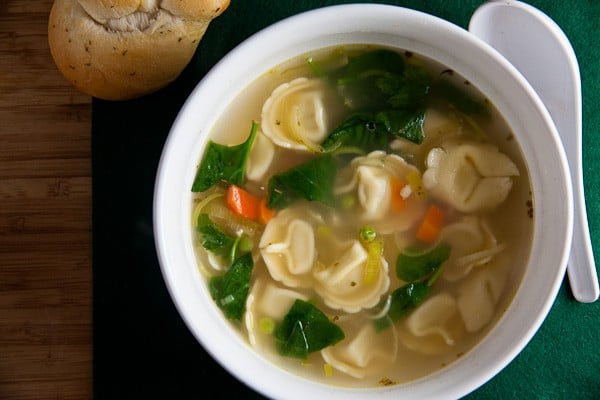 I hope everyone had a great Christmas and that Santa brought you everything you wanted! I got a gorgeous new camera bag and an induction burner (so I can boil water at lightening speed just like Kelly Ripa!) and I couldn't be happier.
Anyway, I don't know about you but I definitely are more than my fair share of cookies this month. I feel pretty gross and I could definitely use a few vegetables and a meal or two with actual nutritional value in my life. I had grand plans to do a post-holiday juice fast – I even bought all of the fruits and vegetables I'd need to make that happen – but we got hit with a blizzard and cold juice just didn't sound very appetizing at all. This light, brothy soup ended up being just what I needed. Filled with random ingredients from the fridge and freezer, and finished with fresh lemon juice to give it some brightness, it was just about perfect.
As with most soups, this one is delicious the first night and even better left over. Make a double batch and have it for lunch all week!