Fresh summer produce is the star of this pasta primavera recipe. Dairy free rosemary cream sauce takes it to the next level!
I created this recipe for my client, GO VEGGIE. Thank you for supporting the brands that make Healthy Delicious possible.

August is peak produce season, but I'll be the first to admit that I still find myself in a rut. Despite all of the variety, there seems to be a never-ending stream of corn, zucchini, and peaches cycling through my kitchen.
I decided I needed a challenge to break out of my habits. When I was choosing ingredients to add to this creamy pasta primavera, I didn't let myself rely on any of the usual suspects. No zucchini. No corn. No baby spinach. I wasn't sure if I could do it!
I ended up with a bunch of veggies that I don't typical gravitate toward – from green beans to yellow squash. Mixed with penne pasta and coated in a blanket of dairy free rosemary cream sauce, it was the perfect celebration of summer produce.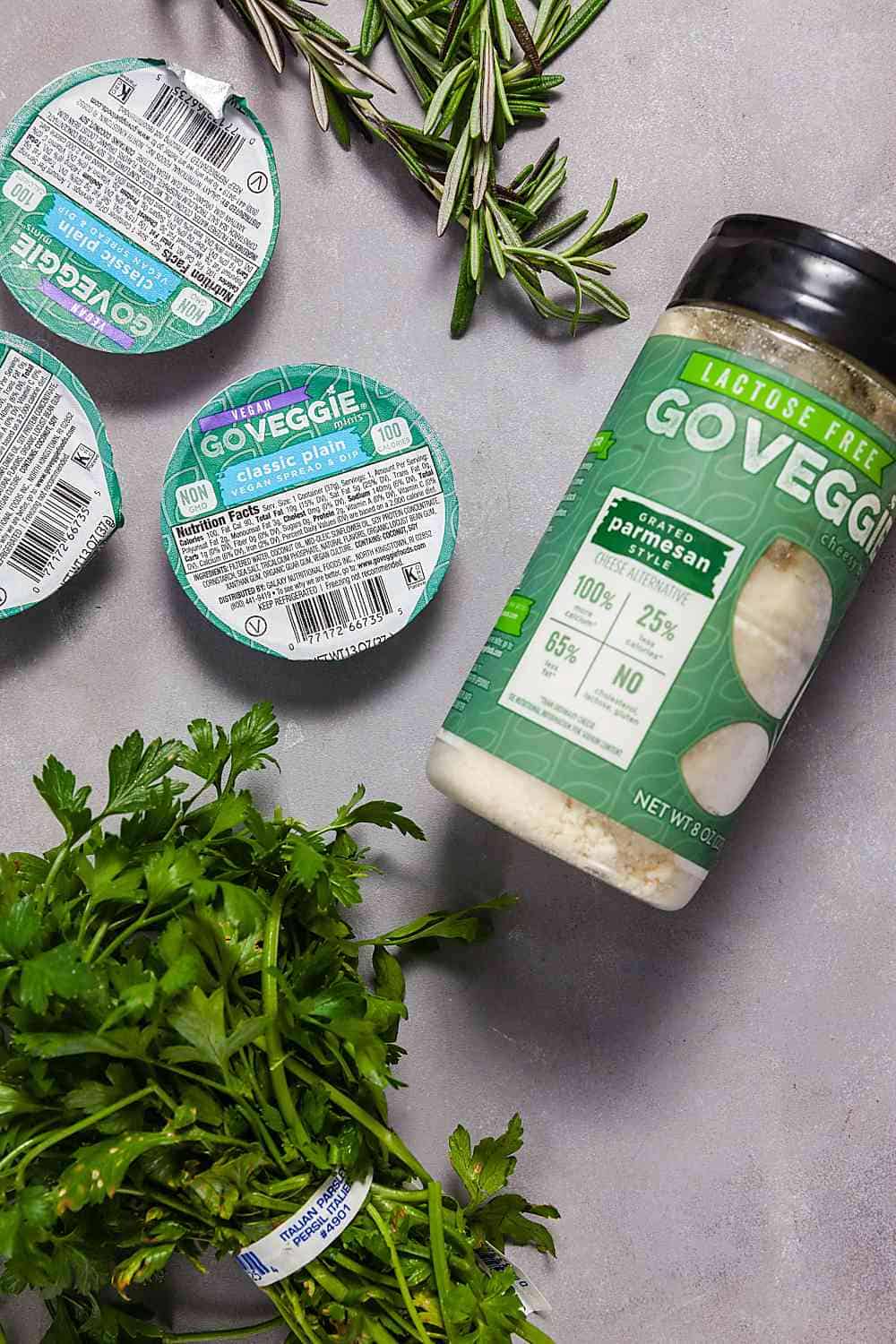 I used GO VEGGIE vegan cream cheese and lactose-free parmesan to make the creamy sauce for this pasta. Cream cheese was the first GO VEGGIE product that I fell in love with, and it's still one of my favorites. It's great spread on a bagel, but I especially love the way it melts – it gives amazing flavor and body to cream sauces and is the secret to my ultra-creamy dairy free mac and cheese.
They added cream cheese minis to their product line up a while back, and I was so excited to find that the store around the corner from my house finally carries them! The little tubs are the perfect size for a bagel and are also great to use as a dip for vegetables or pretzels, and they only have 100 calories each! Two tubs was the perfect amount to use for the sauce on this creamy pasta primavera.
To add even more flavor to the sauce, I also sprinkled in some of their lactose-free parmesan. If you use the vegan variety (with the purple label) this entire recipe would be vegan.
How to make creamy summer vegetable pasta primavera
This pasta primavera is really simple to make, and you can easily swap the vegetables for whatever you're in the mood for. To keep things on the lighter side, I like to use a generous vegetable to pasta ratio. For four servings of pasta, I use about four cups of fresh vegetables.
Start by bringing a pot of water for pasta to a boil. Add the pasta, then start the vegetables – they don't need long!
Heat some olive oil in a large skillet and sauté some garlic until it's nice and fragrant. Next, add your vegetables. Cook them for 3-5 minutes, or until they begin to soften and take on some color. Add a splash of vegetable stock (look for a garden vegetable stock without tomatoes) to help the vegetables soften, and cook another 3 minutes. Stir in the GO VEGGIE cheeses, rosemary, and parsley and allow the sauce to melt together. Stir in the cooked pasta and season with cracked black pepper. If your sauce is too thick, you can also stir in some of the pasta cooking water to help it loosen up.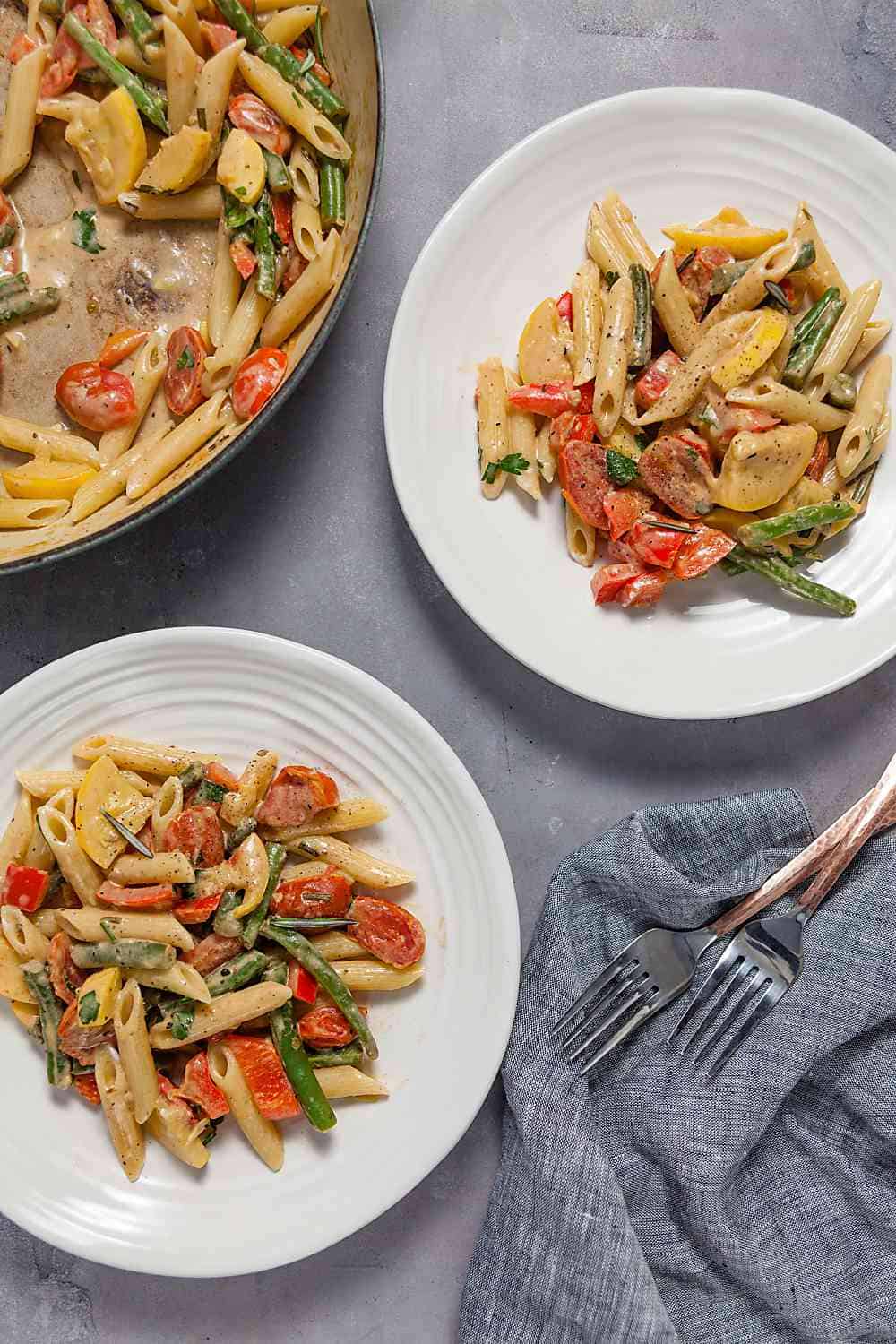 Ingredients
4

cups

penne pasta

2

tablespoon

olive oil

2

garlic cloves

minced

1

red bell pepper

chopped

1

yellow squash

sliced

1

cut green beans

trimmed and cut into 1-inch pieces

1

cup

cherry tomatoes

halved

½

cup

vegetable stock

look for one without tomato

½

cup

GO VEGGIE classic plain cream cheese

2 mini spreads

2

tablespoons

chopped fresh rosemary

¼

cup

fresh parsley

chopped

2

tablespoons

GO VEGGIE lactose-free or vegan parmesan
Instructions
Bring a large pot of salted water to a boil. Cook the pasta according to the package directions. Drain, reserving 1/4 cup of cooking water.

While the pasta cooks, heat the oil in a large sauté pan set over medium heat. Add the garlic and cook 1-2 minutes, until fragrant. Add the pepper, squash, green beans, and tomatoes. Cook for 3-5 minutes, or until the vegetables begin to soften and take on some color. Stir in the vegetable stock and cook 5 minutes, or until the vegetables are cooked to your liking. Stir in the cream cheese, parmesan, rosemary, and parsley; mix until incorporated and creamy. Add the pasta. If desired, stir in some of the reserved pasta water to loosen the sauce.
Notes
This pasta is great reheated. Add a splash of vegetable stock and cook over medium high heat for 8-10 minutes, or until warmed through.