Super simple chicken enchilada sweet potato noodles are packed full of flavor and can be on the table just 30 minutes!
This recipe for chicken enchilada sweet potato noodles has been a long time coming. I've been toying with the idea of an enchilada pasta for ages, but could never quite figure out the little details that would push the recipe from boring to something I could get excited about. Then it hit me – instead of pasta, use sweet potato noodles!
After being on my idea list for months, I finally headed into the kitchen to test it out. OMG you guys, this recipe is so good! It's definitely one of my favorite meals ever, and is definitely something I can get excited about.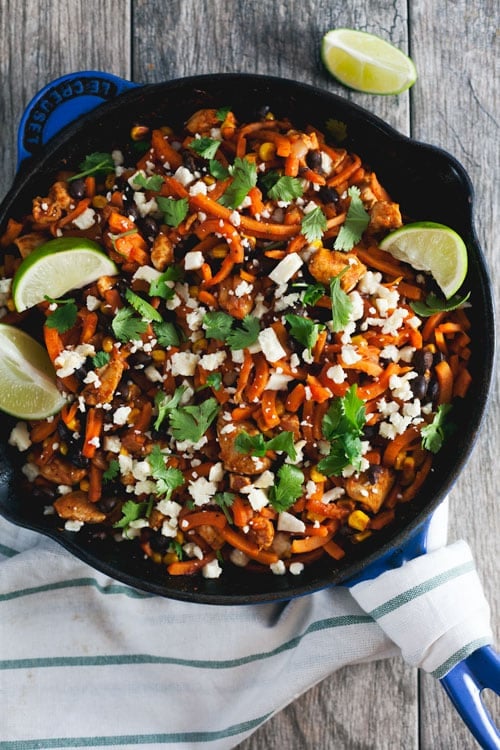 I love the balance of sweet and spicy flavors and interesting textures in this recipe for chicken enchilada sweet potato noodles – everything from the potatoes to the corn to the cilantro plays a role in hitting all the right flavor notes. Be sure not to skip the sprinkle of cotija cheese, fresh cilantro, and lime juice over the top. Together, they add a pop of saltiness and a dash of acidity that brighten the flavors and really make them pop!
In addition to making this recipe more interesting than a simple pasta dish, the sweet potato noodles make this dish more nutritious. They add tons of flavor – and I love how the sweet and spicy flavors pair together – as well as vitamins A and C and antioxidents.
I love the fun noodle shape that you get from cutting the "noodles" with a spiralizer (I have the Paderno 3-Blade Spiralizer but I've also heard great things about the Inspiralizer). If you don't have one, you can cut the potato into 1/4-inch logs, or just dice it. It won't look exactly the same, but it will still taste delicious.

For more spiralized recipes, try: Spiralized Sesame Carrot Salad // Zucchini Noodles with Fresh Herbs and Hazelnuts

This post contains affiliate links.