Inspired by the success of my Clementine-Soy Chicken Thighs, I've been looking for more ways to incorporate clementines into savory dishes. In this recipe, the sweet-tart fruit combines beautifully with rum, brown sugar, and warm spices to make a glaze for grilled pork kebabs. Served with cilantro-lime rice, these are a quick and easy dinner that bring a little bit of summertime flair to the dead of winter.
(I can't believe I'm posting a grilled recipe in February, but we're having such a mild winter this year that it doesn't make sense not to use it – usually the grill is buried under about 4 feet of snow this time of the year). If the weather where you are isn't as gorgeous, the broiler in your oven will work just as well.)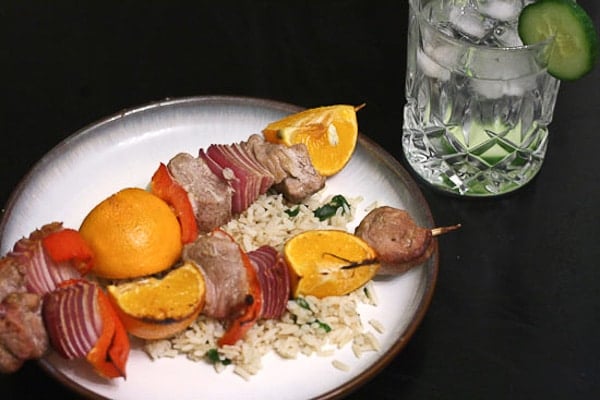 Caribbean Pork and Clementine Kebabs
Yields 2 servings
Prep Time: 10 minutes
Total Time: 20 minutes, plus marinating time
This recipe is adapted from the Weight Watchers PointsPlus Cookbook, which I've had for a few years and which I really should cook from more often. The book appears to be out of print, but there are some used copies available on Amazon. All it took were a few tweaks to the seasonings and a slightly adjusted cooking time to make the recipe perfect.
If you're using wooden skewers like the ones in the photo, be sure to soak them in water for at least an hour before cooking to help prevent them from catching on fire. Then keep a close eye on them while they're on the grill. Or skip the fuss and just use metal skewers.
Ingredients
6 Clementines
2 tablespoons Rum
2 teaspoons Brown Sugar
2 teaspoons Cumin
1/2 teaspoon Coriander
1/4 teaspoon Crushed Red Pepper
1 tablespoon Olive Oil
1/2 pound Pork Tenderloin, cut into 2-inch cubes
1 Red Onion, cut into 8 wedges
1 Red Bell Pepper, cut into 2-inch pieces
Preparation
Combine the juice from 3 clementines, rum, brown sugar, cumin, coriander, and crushed red pepper in a small saucepan set over medium heat. Simmer for 5 minutes, or until the sugar had melted and the liquid has reduced to a thin glaze. Remove from heat and whisk in the olive oil. Allow to cool.
Transfer half the glaze to a bowl. Add the pork. Cover and let marinate for 20 minutes.
Heat the grill to medium-high. Cut the remaining clementines into quarters. Thread clementine segments, pork, onion, and pepper onto skewers. Grill for 6 minutes, then baste with the remaining glaze. Turn the skewars and cook for another 4 to 6 minutes, or until the pork is cooked through.
Approx. 325 calories, 11.5 grams fat, 1 grams carbohydrate, 2.5 grams fiber, 31.5 grams protein

By