Whole Earth Sweetener Co.. All opinions are 100% mine. This is a sponsored post written by me on behalf of
Take advantage of what's left of citrus season with these Blood Orange, Tea + Whiskey Cocktails.
I've gotten really into watching award shows over the last few years. It's funny, because I'm the kind of person who wouldn't recognize a celebrity if I bumped into them on the street. But who doesn't love an excuse to have a few friends over, dress up fancy, and drink cocktails? It's pretty much my favorite. This weekend, we'll be sipping these Blood Orange, Tea + Whiskey Cocktails while we cross our fingers and hope that Hidden Figures wins big. (If you haven't seen it yet, you need to – it's amazing!)
Making cocktails with tea has been my thing lately. It all started with these Earl Grey Apple Cider Cocktails, then kicked into high gear after I had an amazing Earl Grey Breakfast Martini earlier this fall. For this whiskey cocktail, I decided to take a detour from Earl Grey and infuse the whiskey with Irish Breakfast tea instead. The resulting drink is elegant, fun, and a little moody. Perfect for an award show!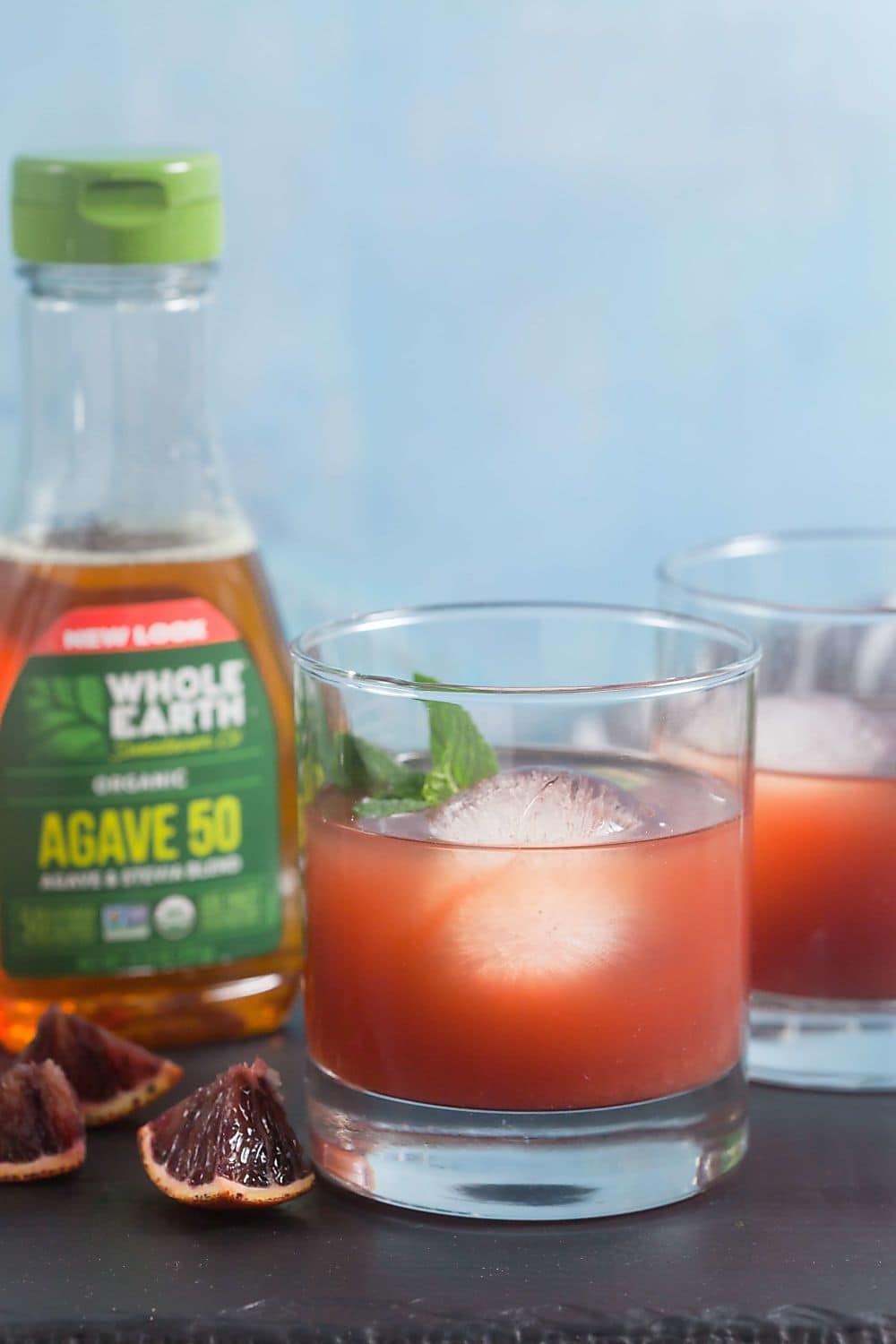 Instead of fussing with simple syrup, I used Whole Earth Sweetener Agave 50 to sweeten these cocktails. You might remember them from my Sweet Potato Blender Muffins (if you haven't tried them yet, what are you waiting for?).
The Agave 50 is a blend of agave and stevia, so it has 50% less calories per serving as traditional agave. It has a neutral taste, so it's perfect for using in cocktails. Their Whole Earth Sweetener Honey 50, a blend of honey and stevia, also works really well in this drink – it reads a little sweeter, and the honey goes really well with the blood orange flavor.
Like the rest of their products (Baking Blend, Nature Sweet® zero calorie packets, Turbinado Raw Cane 50, and Monk Fruit Juice Concentrate), the Agave 50 and Honey 50 are non-GMO Project Verified and don't have any weird aftertaste.
You can find Whole Earth Sweetener products at your local grocery stores (I've purchased them from ShopRite and Price Chopper). They're also available on Amazon.