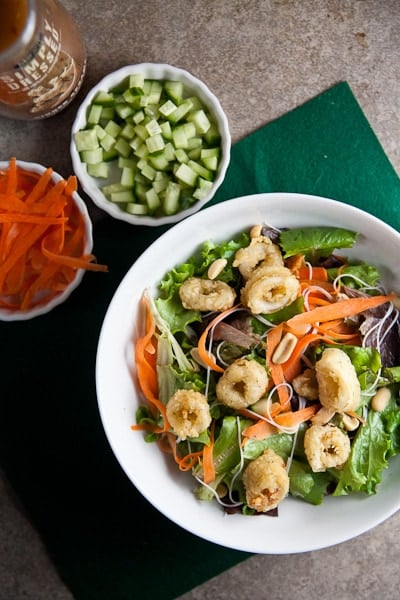 It takes a lot to get me to eat a salad in the winter. Soup? Sign me up. Salad? Maybe another day….
Of course, if you load a salad up with lots of delicious, hearty toppings it's hard to pass up – even when there's three feet of snow on the ground. Recently I've had a few great salads that, for one reason or another, really stood up to the cold weather. This Asian-inspired Calamari Salad is one of them. There's nothing particularly wintery about it, but it's so much easier to get excited about a salad topped with calamari than one topped with chicken! And how can you say no to warm noodles that soak up spicy, gingery dressing and carry it through every bite?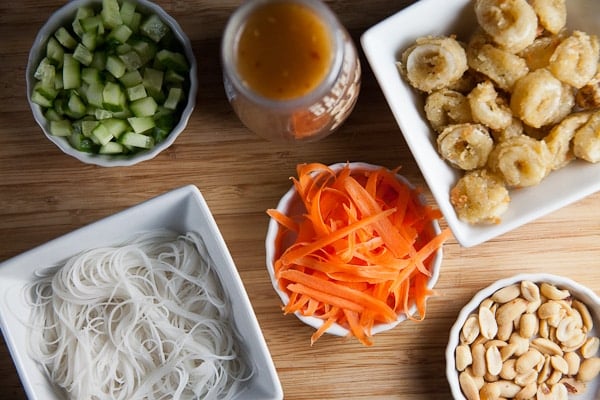 I "cheat" by using frozen breaded calamari. It's a little difficult to come by, but can be found in a lot of bigger grocery stores. Since we're going with Asian flavors here, check the ingredients listed on the box to be sure that the ones you buy aren't Italian seasoned. You can also make your own tempura calamari – this recipe from Simply Recipes is easy and delicious.
You'll notice that I used Simply Dressed Ginger Sesame for this recipe. As I've mentioned before it's one of my favorites. I'm currently a spokesblogger for Marzetti, but this recipe falls outside of my contract for them and this post is not sponsored in any way – it's just a great recipe that I wanted to share.