9 easy and healthy foil pack recipe to make tonight – minimal cleanup required! 
I feel like I must have done something to piss off the blogging gods. This summer, nothing is going my way! Back in April, my laptop died. Annoying for anyone but particularly obnoxious when you're a blogger! I made do with a borrowed one I but it wasn't the same without all of my files and programs set up the way I'm used to. I FINALLY got a new are a few weeks ago. I went with a surface, which I love so far,  but switching to windows after using a mac for over a decade takes some getting used to!
I was finally getting back into the swing of things when I broke my stove. Like, seriously? A jar of salsa fell at just the right angle and smashed the glass stovetop into a million pieces. Somehow the jar didn't even break! A replacement will be here in about a week.
In the meantime, at least its still grilling season. I've been all about healthy foil pack recipes this summer as it is, and it looks like I'll be making some more this week. Foil pack recipes are great for any night, but they're especially useful for camping since you don't need pots and pans. That also means they're great when you don't feel like doing dishes. (For me, that's every night.) And, as I just discovered, they're perfect when your stove isn't available. If you think you might do a kitchen reno soon – or if you're just a butterfingers like me – you'll definitely want to bookmark these healthy foil pack recipes.
These mostly focus on dinners, with everything from beef to shrimp, but I also included one of my favorite foil pack desserts. Where appropriate, I've made a note about any special diet they fall under (paleo, whole 30, dairy free, gluten free…although people just love putting corn into these, so there aren't as many paleo/Whole30 options as my roundups usually have.) As always, please check your product labels to ensure there are no hidden ingredients if you follow a special diet.
Healthy Foil Pack Chicken Dinners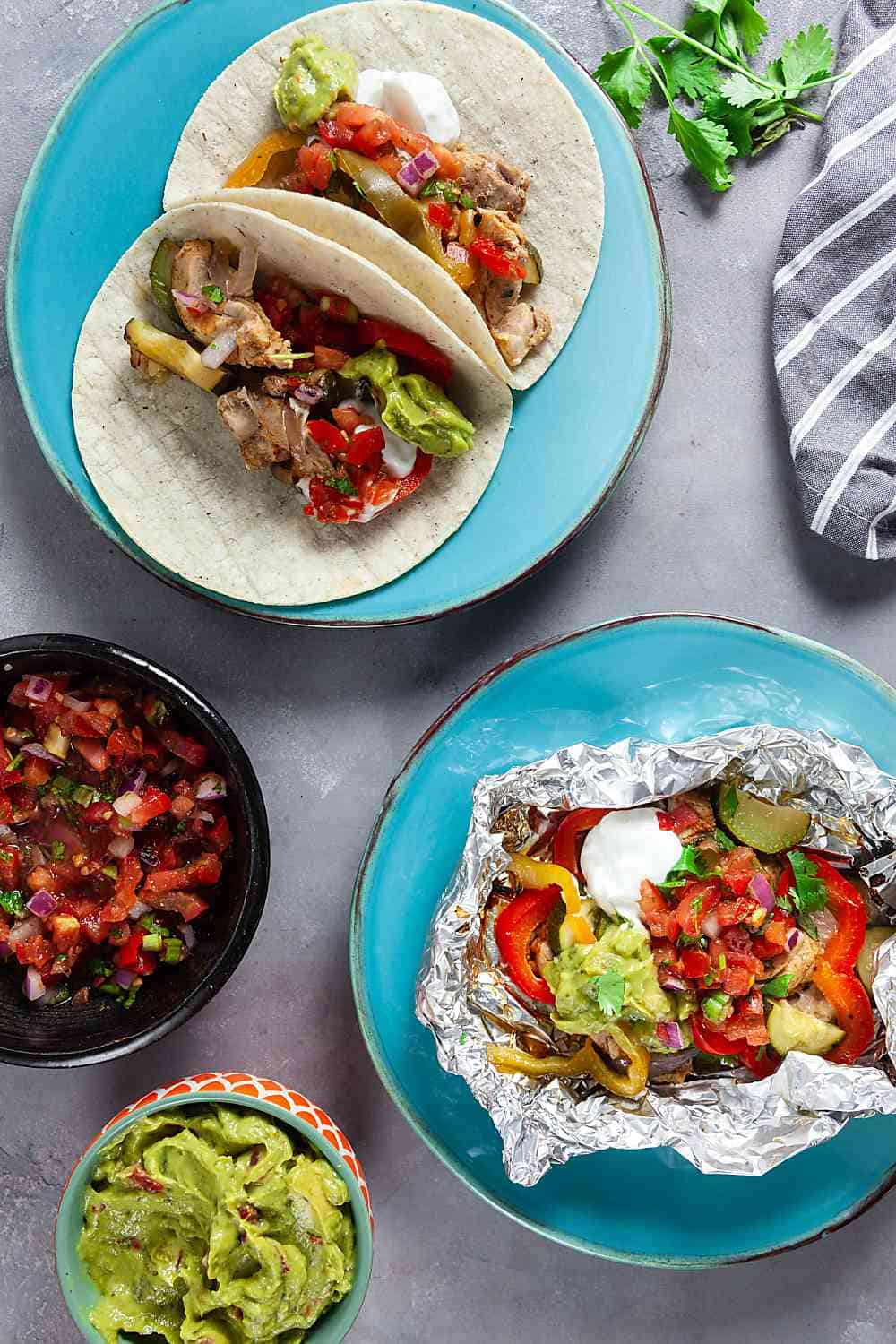 1) Foil Pack Fajitas. Fajitas are always a crowd favorite and this foil pack version is no exception. Zucchini adds extra flavor that's perfect for the season. Paleo/Whole 30 /Gluten Free/Dairy Free depending on your toppings.

2) Caprese Chicken Foil Packs. It seems like caprese recipes are everywhere lately, and for good reason. The classic combination of summer tomatoes, fresh basil, and creamy mozzarella is so good! I'd serve this chicken caprese over zucchini noodles for a dinner that screams late summer. Gluten-free

3) Southwestern Chicken Packets. These foil packs are loaded with bold southwest flavors, thanks to corn, beans, and pepper jack cheese. Use your favorite gluten-free taco seasoning to keep this recipe gluten-free. 
Healthy Foil Pack Seafood Dinners
4) Old Bay Shrimp Foil Packs are a classic seafood boil made easy. It doesn't get any more summery than this! gluten free/dairy free. 
5) Honey Garlic Shrimp and Zucchini Foil Packets. Shrihttps://neighborfoodblog.com/2016/06/honey-garlic-shrimp-foil-packets.htmlmp cook quickly, so they're a natural fit when it comes to grilling. These foil packs get their flavor from a kiss of sweet and sticky honey glaze. Yum! Gluten Free/Dairy Free. 

6) Grilled Cesar Salmon Foil Packets. Salmon foil packs always remind me of Girl Scout camp when I was a kid. I love the addition of artichoke hearts, juicy tomatoes, and Cesear salad dressing to this recipe. Gluten Free
Healthy Foil Pack Dinners with Meat
7) Foil Pack Sausage and Potatoes would be perfect for dinner or breakfast! They're ready in just 15 minutes, with minimal cleanup. Win-win! Gluten free/swap oil for butter to make them dairy free. 
8) Garlic Steak and Sweet Potato Foil Packets.  I don't even know what to say about this recipe besides WOW. I'm making it as soon as I can. Paleo/Gluten Free/Whole 30/Dairy Free. 
Healthy Foil Pack Desserts

9) Foil Pack Apple Crisp.  This has been one of my favorite desserts this summer, but it can also double as breakfast. Paleo/Gluten Free.
What's you're favorite thing to cook in a foil pack?