Yesterday – August 8 – was "National Sneak Some Zucchini onto Your Neighbors Porch Day." It sounds like a joke, but think about it. If you have a garden (or know someone who has a garden) chances are you've been up to your ears in zucchini and summer squash for a few weeks already. You might be sick of them. And looking for an excuse to sneak some on an innocent neighbor under cover of night. But this gratin might just rekindle your love of the ubiquitous summertime vegetable.
As delicious as my tea-smoked salmon with lavender and honey glaze was (Have you seen it yet? Entered to win some tea?), this gratin held its own. Served together, dinner was an event. I half expected fireworks to go off as I finished my plate. The squash bakes in their own juices until they are soft and delicate. The tomatoes begin to dry from the heat of the oven, leaving them sweet and intensely flavored. The sharp Parmesan and crisp breadcrumbs lend classic comfort. And then, there's the unexpected. Instead of using italian seasonings, you take a little detour through the south of France thanks to fresh thyme and herbs de Provence (a mixture of savory, fennel, basil, thyme, and lavender).
Sure you may be reluctant to turn your oven on in the height of August. Wait for a rainy day if you must. But I wouldn't wait. Really, it's already so hot that having the oven on doesn't seen to make it any worse. And even if it does, it's totally worth it.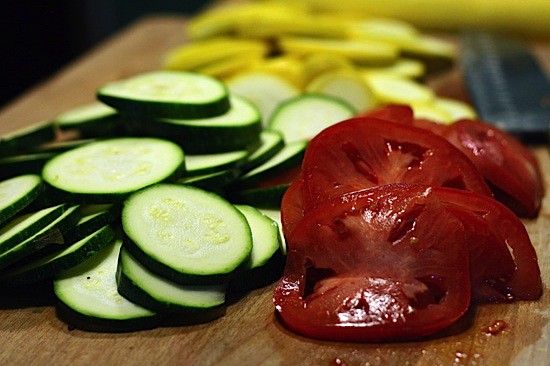 The other day, I was thinking about the way I used to eat. Back when I was in college and shortly after I graduated. Let's just say it wasn't very healthy or very delicious. Looking back, I think there was a period of time where I just completely forgot that I knew how to cook a decent meal. Plus, I couldn't really be bothered. Like a lot of people, I had the misconception that cooking a real dinner out of real ingredients would be too expensive and take too much time. So we'd boil a box of pasta and mix it with a jar of sauce and some sausage. Or we'd try to be "healthy" and make a chicken stir-fry, but we would totally ruin it by using store-bought marinades that were loaded with sugar. For a special treat, we'd buy a box of zatarain's mix and make jambalaya.
I don't miss the other stuff at all, but I do kind of miss the jambalaya. And with Foodbuzz pledging to donate $25 to the Greater New Orleans Foundation (helping fishermen who were effected by the oil spill and their families) for every Gulf-Inspired post this weekend, it seemed like the perfect excuse to make it. Of course, I wasn't going to resort to using a box – I know better than that now! (And a quick look at the back of the box confirmed my suspicions — 21% of your RDA of sodium? MSG? Sodium dioxide?? No thanks!) No, this jambalaya is 100% real food and 100% real flavor. Sure you have to spend a few minutes chopping vegetables, but other than that it really isn't any more difficult or time consuming than the boxed stuff. And the final product is so much healthier and so much more delicious that there really isn't any excuse to take "shortcuts"!
Looking for more Gulf-inspired flavor? How about a nice, steamy bowl of gumbo? Gumbo is very similar to jambalaya, but it's prepared as a soup enriched with a roux. In gumbo, the rice is cooked separately from the other ingredients and added in the final step instead of cooking along with everything else and absorbing all of the flavors.