Honey Roasted Cashew Butter is surprisingly easy to make at home. Give it a try – soon you'll be eating it on everything!
I created this recipe for my client, the National Honey Board. Thank you for supporting the brands and ingredients that keep me inspired in the kitchen!

When I was a kid, I was extremely picky about my peanut butter sandwiches. They had to have honey – never jelly – and needed to be served open-faced on bread or an English muffin. (Bonus points for also adding bacon and sliced banana.)
Fast forward 30-some years and not much has changed – except that we've figured out that all sorts of nuts make delicious butter. I don't eat nut butters often, but when I do it's almost always paired with honey and served on something toasted. It's such a delicious way to start the morning!
I fell in love with cashew butter a few years ago after I made it for a Daring Cooks challenge. It's still one of my favorites as far as nut butters go. Luckily, it's really easy to make at home – and much cheaper than buying it at the store. Blending the cashew butter with honey gives it a delicious sweet flavor. Since honey is a natural emulsifier, it also helps prevent the cashew butter from separating as it sits (no annoying stirring required!)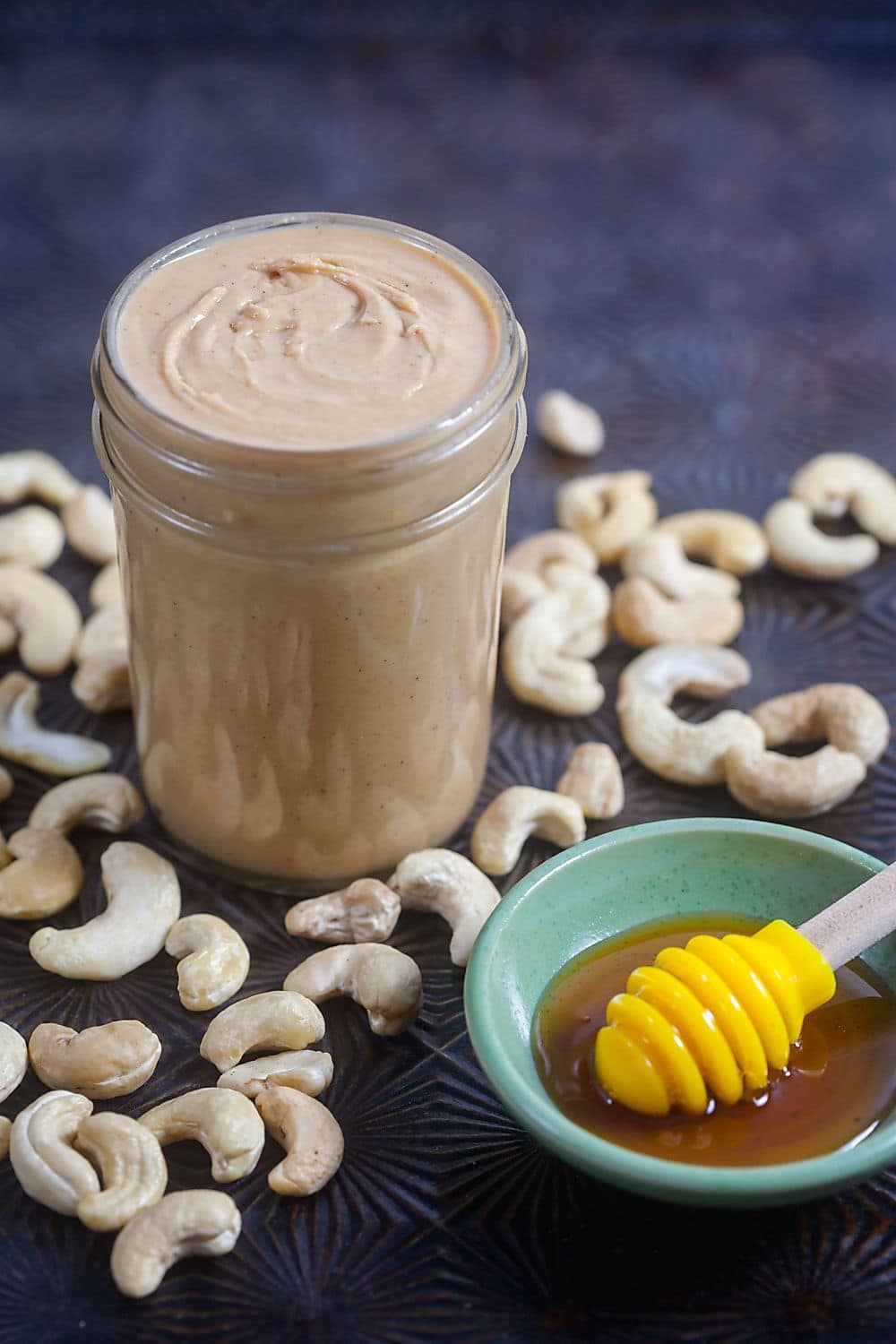 For this honey roasted cashew butter, I start by roasting my nuts with honey and coconut oil. Roasting the nuts gives them a deeper, toasted flavor and softens them so they're easier to blend. At the same time, the flavor of the honey intensifies and picks up some extra caramel notes.
You can use clover honey for this recipe, but it's also a great opportunity to experiment with different varieties. Did you know there are over 300 honey varietals of honey in the United States alone? The color and flavor changes depending on the source of flowers visited by the honey bees and can range from mild and floral to distinctively bold. The simplicity of this recipe really lets the flavor of the honey shine.
When picking out your honey, but sure to look at the packaging. For the purest flavor, look for honey that only has one ingredient – honey – and doesn't contain any additional sweeteners, flavors, or colors. Learn more about honey and find tons of recipe ideas and tips at honey.com.
How to make Honey Roasted Cashew Butter
To make this cashew butter, start by mixing the cashews, honey, and coconut butter in a large mixing bowl. Melting the coconut butter helps thin out the honey and makes it easier to coat the nuts. Instead of dirtying a pot to melt the coconut oil, I put it in a small bowl and set it in the oven while it preheats.
Once everything is mixed together, spread it on to a baking sheet lined with a silicon mat. This will prevent the honey from slicking to your pan and will make cleanup a breeze. (If you don't have a silicon baking mat, you can also use parchment paper.)
Roast the nuts at 350º for about 15 minutes, or until they're a deep golden brown. Keep a close eye on them so they don't burn, and be sure to give them a good stir after about 8 minutes in the oven.
Let the honey roasted cashews cool slightly, then transfer them to a food processor to blend. This will take a few minutes – don't give up! At first, the nuts will form a ball that will bounce around the side of the machine, but after a few minutes, it will liquify and settle down to the bottom. You can stop there for a "chunky" version or let the food processor run for another minute or two to make it super smooth.
You can store your honey roasted cashew in the refrigerator for several weeks – if it lasts that long! If you're anything like me, you'll find your self spreading it on English muffins, blending it into your morning smoothies, and eating it straight off the spoon.
Ingredients
16

ounces

cashews

raw, unsalted

3

tablespoons

honey

2

tablespoons

coconut oil

melted

½

teaspoon

vanilla bean paste or vanilla extract

⅛

teaspoon

grey sea salt
Instructions
Heat oven to 350ºF. Line a baking sheet with a silicon mat.

In a large mixing bowl, combine the cashews, honey, and coconut oil. Mix to coat well. Spread the cashews in a single layer on the baking sheet. Bake 15 minutes, stirring halfway though to prevent burning. Remove the nut from the oven and let cool.

Transfer the nuts to a food processor; add the vanilla and salt. Process until a smooth paste forms. (This will take 5-15 minutes, depending on the power of your food processor.)
Nutrition Facts
Honey Roasted Cashew Butter
Amount Per Serving (2 g)
Calories 0
* Percent Daily Values are based on a 2000 calorie diet.