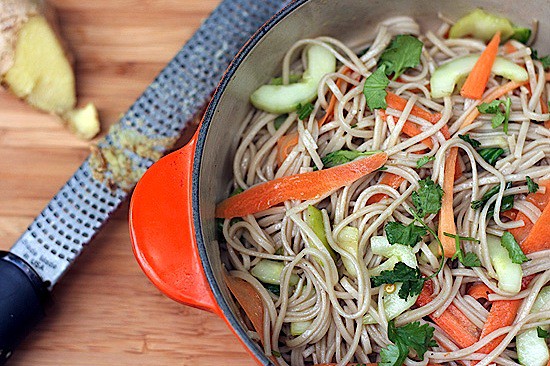 Because I plan my meals for the week ahead of time and buy groceries as I need them, the available ingredients in my kitchen can vary greatly from week to week. Of course, there are certain items that I always have on hand — either because they're staples that come together into a quick meal when I haven't planned ahead or because they're things that I use all the time. Pasta, lemons, goat cheese. Canned tomatoes. Black beans. Gin.
Lately, an increasing number of Asian ingredients have secured a dedicated spot in my cabinet. Especially seasoned rice wine vinegar and sesame oil. Both of these are easy to find in most grocery stores and add a ton of flavor to all sorts of foods. They make it super easy to prepare quick Asian-inspired dishes like Edamame Salad and these Soba Noodles with Grilled Shrimp.
These noodles are my idea of the perfect summertime meal. They're fast and easy to make and require minimal effort. They also make great leftovers and don't even need to be heated up – I think I actually liked them even more the next day, after the flavors had a chance to meld. Unlike other similar dishes that have a tendency to be flat, the combination of rice wine vinegar and lime juice gives these noodles have a nice acidity and a bright flavor that plays really well off the earthy buckwheat noodles and nutty sesame oil. Watery vegetables keep the whole dish light and fresh. Topped with a few grilled shrimp (another ingredient that I'm always sure to keep in my freezer), this salad makes a great light meal for a hot summer night.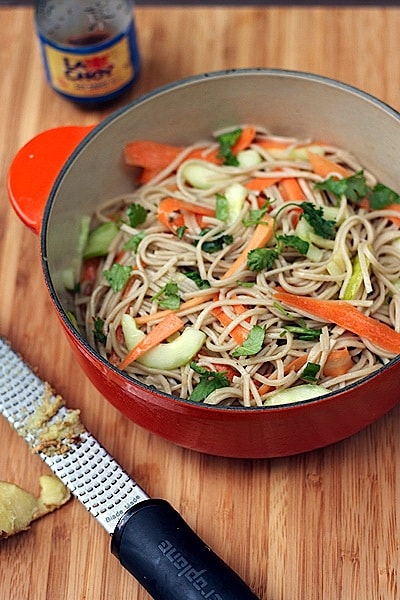 The other day, I was thinking about the way I used to eat. Back when I was in college and shortly after I graduated. Let's just say it wasn't very healthy or very delicious. Looking back, I think there was a period of time where I just completely forgot that I knew how to cook a decent meal. Plus, I couldn't really be bothered. Like a lot of people, I had the misconception that cooking a real dinner out of real ingredients would be too expensive and take too much time. So we'd boil a box of pasta and mix it with a jar of sauce and some sausage. Or we'd try to be "healthy" and make a chicken stir-fry, but we would totally ruin it by using store-bought marinades that were loaded with sugar. For a special treat, we'd buy a box of zatarain's mix and make jambalaya.
I don't miss the other stuff at all, but I do kind of miss the jambalaya. And with Foodbuzz pledging to donate $25 to the Greater New Orleans Foundation (helping fishermen who were effected by the oil spill and their families) for every Gulf-Inspired post this weekend, it seemed like the perfect excuse to make it. Of course, I wasn't going to resort to using a box – I know better than that now! (And a quick look at the back of the box confirmed my suspicions — 21% of your RDA of sodium? MSG? Sodium dioxide?? No thanks!) No, this jambalaya is 100% real food and 100% real flavor. Sure you have to spend a few minutes chopping vegetables, but other than that it really isn't any more difficult or time consuming than the boxed stuff. And the final product is so much healthier and so much more delicious that there really isn't any excuse to take "shortcuts"!
Looking for more Gulf-inspired flavor? How about a nice, steamy bowl of gumbo? Gumbo is very similar to jambalaya, but it's prepared as a soup enriched with a roux. In gumbo, the rice is cooked separately from the other ingredients and added in the final step instead of cooking along with everything else and absorbing all of the flavors.