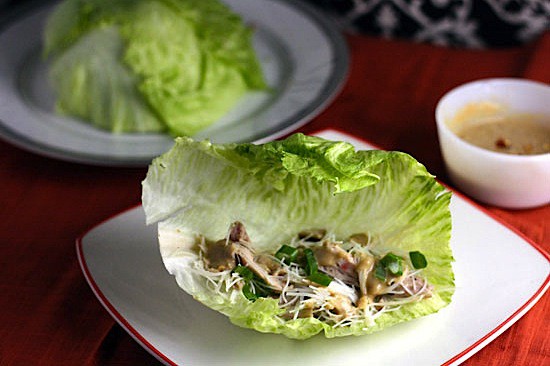 The July 2010 Daring Cooks' Challenge was hosted by Margie of More Please and Natashya of Living in the Kitchen with Puppies. They chose to challenge Daring Cooks to make their own nut butter from scratch, and use the nut butter in a recipe. Their sources include Better with Nut Butter by Cooking Light Magazine, Asian Noodles by Nina Simonds, and Food Network online.
As long as you have a food processor or a powerful blender, nut butters are a cinch to make — not very challenging at all. What I did find challenging was deciding on what kind of nut I wanted to use and coming up with a creative dish to incorporate it into. Cooking with nut butters isn't new to me, but I typically use them in dishes like these udon noodles with sweet and spicy sauce. And while that type of dish is delicious, I was looking for something a little lighter in this hot weather. I originally anted to make a macadamia nut butter and use it in some sort of Hawaiian/Indonesian fish dish, but I had already planned two other seafood-based dinner for this week and thought that a third would be overkill.
I remembered that I had some duck in the freezer, and I had been wanting to make lettuce wraps for a while so that seemed like it would be perfect paired with a cashew butter. It was a great choice — the cool, crisp lettuce kept that rich duck from seeming to heavy and the sauce was incredible! It was creamy and sweet and just a little bit spicy, with some rich notes from the soy sauce and sesame oil. Thinned out a little bit more (maybe with a little bit of lime juice?) the sauce would make a fabulous salad dressing. I'm torn over whether I want to eat my leftover cashew butter on toast or make the dressing and have a huge salad. I might just need to buy more cashews and do both….
Click to continure reading Duck and Shitake Lettuce Wraps with Cashew Sauce –>