Lemons, lemons, lemons. This is the third post in a row that involves lemon in some way – it must be Spring! I've been playing around with the idea of a lemon-poppy vinaigrette for a while now, but I could never figure out the right application for it. Finally I decided to pair it with this delicate salad that is super simple yet bursting with flavor. I'm not exaggerating at all when I say that this may be my favorite salad of all time! The tartness of the lemon-poppy vinaigrette, the warm, creamy goat cheese with a slight crunch from the breading, the fresh herbs that set the salad over the top in the flavor department – it all comes together in one big plate full of yum. We had this for dinner last night, and Shawn already asked if we could have it again tonight. So if you're looking for a springtime treat that won't weight you down, I highly suggest making this.
A few weeks ago, Olivia's Organics contacted me and asked if I would be interested in trying out some of their salad mixes. I told them that I actually buy their salads all the time and I love them, but they happily sent along a few coupons for free samples anyway. They also send me some information about the company, that I was happy to receive. I buy their products because they taste great, are always fresh, and are super convenient but I had no idea that they also give a portion of their proceeds to charities that help children (such as the Make a Wish Foundation and The Food Project) or that their packaging is recyclable! They even have a section on their website devoted to fun ways to reuse their salad containers. What more could you ask for? I love when I'm able to feel good about giving my money to a company like that.
Their salad blends are great. I usually just buy the baby lettuce mix or the spinach, but when I planned this salad I knew I wanted to put a different spin on it by using lots of fresh herbs mixed with the greens. I had planned to buy the herbs individually, so can you imagine how surprised I was to find the Herb Salad Mix, which contained a blend of lettuces as well as other goodies like chard, frisse, beet greens, mustard, dill, and parsley? It was exactly what I wanted, and it save me the money and trouble of having to purchase all of those herbs individually. The proportions were great too. It wasn't just a bunch of lettuce taking up space — the herbs were plentiful.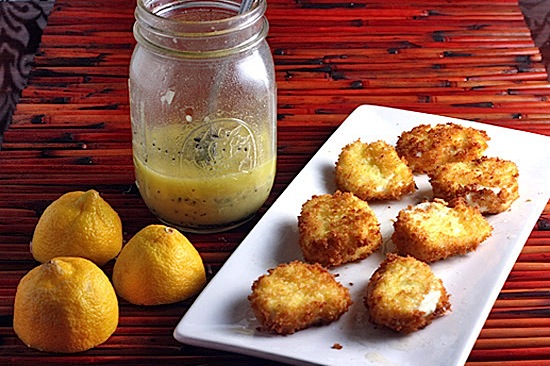 Herb Salad with Lemon-Poppy Vinaigrette and Warm Goat Cheese Croutons

This lemon-poppy vinaigrette has a nice tart flavor, and the poppy seeds add a touch of texture. I kept my dressing on the sour side to balance out the natural sweetness of the berries and cheese, but you can add more honey if you prefer a sweeter flavor. For the goat cheese croutons, it's important to make sure your oil is nice and hot — this will prevent them from soaking up too much oil and will allow them to cook quickly so the cheese becomes warm but doesn't melt.

1 6-ounce log of goat cheese

1 egg, beaten

1/4 cup panko breadcrumbs

oil for frying

1 shallot, minced

2 lemons

1 tsp honey

1 tsp dijon mustard

2 Tbs olive oil

1 tsp poppy seeds

1 package Olivia's Organics Herb Blend salad (or a combination of your favorite lettuces and lots of fresh herbs)

1/4 cup fresh cilantro

1/2 cup blueberries

To prepare the warm goat cheese croutons: set a small pot with about 1/2-inch of oil over medium-high heat. While the oil heats, cut the cheese log into 8 rounds. Quickly dip each round into the beaten egg, then into the breadcrumbs. When the oil reaches 350 degrees (if you don't have a thermometer, put a pinch of breadcrumbs into the oil — if the oil sizzles and the crumbs immediately brown, the oil is ready) add two or three of the goat cheese rounds, being careful not to overcrowd the pot. Cook for 10 seconds, then flip and cook for 10 seconds on the other side. Remove from the oil and let rest on a plate lines with a paper towel.

To make the dressing: Roll the lemons back and forth between the counter and your pal, pressing firmly, to help release the juices. Slice in half and juice the lemons — you should have about 1/4 cup of juice. Add the lemon juice, shallot, honey, mustard, and oil to a jar. Put the lid on and shake vigorously to combine. Stir in the poppy seeds.

To plate, combine the salad mix with the cilantro. Toss with about half of the dressing (refrigerate the rest for next time)!. Top with the blueberries and 2 goat cheese croutons.

Serves 4.
Approx. 240 calories, 18.5 grams fat, 1.7 grams fiber, 10.5 grams protein










*****
It's been far too long since I've been able to write this, but I' submitting this post to Souper Sunday at Kahakai Kitchen.