Once upon a time, I spent a weekend in Hyannis Port. I sat at a sidewalk cafe, basking in the July sun and trying to not look ridiculous as I cracked open the lobster I had ordered for dinner. I had no idea what I was doing and it was very hard to not make a mess (I had stubbornly refused the bib that the waiter had politely offered.) Then, out of nowhere, I saw Ted Kennedy walking down the street. Eating Ben and Jerry's. And suddenly I felt very silly. What was I doing struggling with a stupid lobster that had next to no meat in it when there was a Ben and Jerry's less than a block away? For the rest of the dinner, I could only concentrate on two things: "OMG Ted Kennedy is in town" and "I'm so getting ice cream when we're done here."
And that marks the last time I was ever able to think about lobster without also immediately thinking about Ted Kennedy. OK, OK, it also marks the last time I ever ate a whole lobster. I mean, why bother? They're good, but only because they're drowning in butter. They're a pain in the butt to eat, not elegant at all, and you'll finish dinner still starving since you only actually ate about 3 Tablespoons of food. Other full-sized menu items with lobster in them though? Like Connecticut-Style Lobster Rolls or Lobster Risotto? Sign me up. Pairing that lobster with pasta, in Lobster Mac and Cheese or Ravioli? Even better — much more lady-like to eat and much less chance of leaving the dinner table still starving.
Which is why I was so excited to see that Buitoni's new line of frozen dinners includes a shrimp & lobster ravioli. I had been searching high and low for this product for weeks, when I received an email from Foodbuzz asking for people to host a dinner party that pairs one of the new entrees with a vegetable side dish. Score! I immediately knew what I wanted to propose: I'm not really one for dinner parties and something about lobster ravioli seems so sexy to me that it seemed obvious to use the product as the basis for a quick and easy romantic weeknight in. Paired with a special yet simple-to-make salad dressed with homemade champagne vinaigrette and served with a glass of crisp champaign, this is the kind of meal that demands you turn the TV off and actually talk to each other. The whole meal can be prepared in 20 minutes (and with just one pot) and the price can't be beat. They make it so easy that there really isn't an excuse not to have a nice dinner at home. Why not celebrate a special occasion (oh,say, a tuesday) with a great meal like this?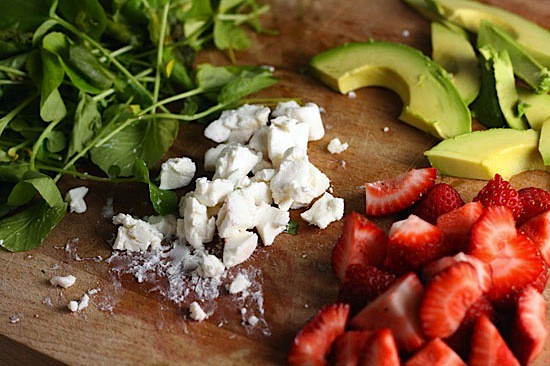 Click to continue reading my thoughts on Buitoni's Shrimp & Lobster Ravioli and for my vinaigrette recipe –>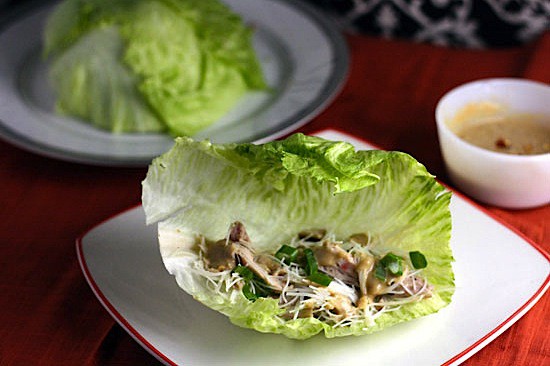 The July 2010 Daring Cooks' Challenge was hosted by Margie of More Please and Natashya of Living in the Kitchen with Puppies. They chose to challenge Daring Cooks to make their own nut butter from scratch, and use the nut butter in a recipe. Their sources include Better with Nut Butter by Cooking Light Magazine, Asian Noodles by Nina Simonds, and Food Network online.
As long as you have a food processor or a powerful blender, nut butters are a cinch to make — not very challenging at all. What I did find challenging was deciding on what kind of nut I wanted to use and coming up with a creative dish to incorporate it into. Cooking with nut butters isn't new to me, but I typically use them in dishes like these udon noodles with sweet and spicy sauce. And while that type of dish is delicious, I was looking for something a little lighter in this hot weather. I originally anted to make a macadamia nut butter and use it in some sort of Hawaiian/Indonesian fish dish, but I had already planned two other seafood-based dinner for this week and thought that a third would be overkill.
I remembered that I had some duck in the freezer, and I had been wanting to make lettuce wraps for a while so that seemed like it would be perfect paired with a cashew butter. It was a great choice — the cool, crisp lettuce kept that rich duck from seeming to heavy and the sauce was incredible! It was creamy and sweet and just a little bit spicy, with some rich notes from the soy sauce and sesame oil. Thinned out a little bit more (maybe with a little bit of lime juice?) the sauce would make a fabulous salad dressing. I'm torn over whether I want to eat my leftover cashew butter on toast or make the dressing and have a huge salad. I might just need to buy more cashews and do both….
Click to continure reading Duck and Shitake Lettuce Wraps with Cashew Sauce –>