Like most of the country, New York has been suffering through a heat wave for the past week. Quite frankly, it's too hot to cook or even to eat anything very substantial. For the first few days I was content eating salads for dinner, but after more than two or three days of salad I start to get cranky so I tried to think of something that would satisfy my raving for real food without requiring me to actually cook (since the minutes I spent over the stove sautéing onions last night left me so hot that I couldn't even enjoy the steak that Shawn grilled for me).
An ice-cold gazpacho seemed like it would hit the spot, but that suggestion was met with a resounding, "No way!" My effort to convince Shawn that gazpacho is basically just pureed salsa (the only way he'll eat raw tomatoes) didn't get me anywhere. Luckily, I had this recipe up my sleeve — a sightly spicy watermelon soup without a single tomato.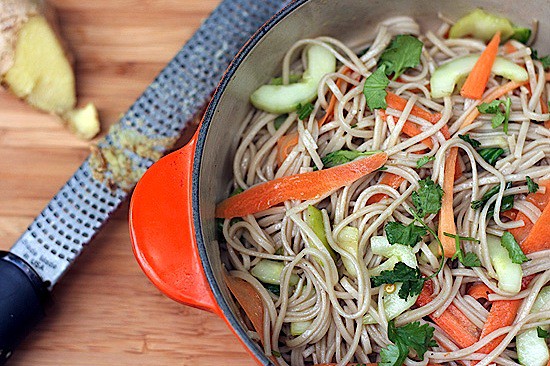 Because I plan my meals for the week ahead of time and buy groceries as I need them, the available ingredients in my kitchen can vary greatly from week to week. Of course, there are certain items that I always have on hand — either because they're staples that come together into a quick meal when I haven't planned ahead or because they're things that I use all the time. Pasta, lemons, goat cheese. Canned tomatoes. Black beans. Gin.
Lately, an increasing number of Asian ingredients have secured a dedicated spot in my cabinet. Especially seasoned rice wine vinegar and sesame oil. Both of these are easy to find in most grocery stores and add a ton of flavor to all sorts of foods. They make it super easy to prepare quick Asian-inspired dishes like Edamame Salad and these Soba Noodles with Grilled Shrimp.
These noodles are my idea of the perfect summertime meal. They're fast and easy to make and require minimal effort. They also make great leftovers and don't even need to be heated up – I think I actually liked them even more the next day, after the flavors had a chance to meld. Unlike other similar dishes that have a tendency to be flat, the combination of rice wine vinegar and lime juice gives these noodles have a nice acidity and a bright flavor that plays really well off the earthy buckwheat noodles and nutty sesame oil. Watery vegetables keep the whole dish light and fresh. Topped with a few grilled shrimp (another ingredient that I'm always sure to keep in my freezer), this salad makes a great light meal for a hot summer night.