When it's done right, I love tiramisu. But when it's not done right, it can be pretty disappointing – too sweet and too sloppy. So it goes without saying that I had mixed feeling when I saw that the February 2010 Daring Bakers' challenge was hosted by Aparna of My Diverse Kitchen and Deeba of Passionate About Baking. They chose Tiramisu as the challenge for the month.
Their challenge recipe is based on recipes from The Washington Post, Cordon Bleu at Home and Baking Obsession. As part of the challenge, Aparna and Deeba also required that we make our own mascarpone and lady fingers. It seemed like a lot of work for such an iffy outcome, and since I've been so exhausted lately I seriously considered not participating in the challenge. But some of my friends on twitter were encouraging, promising that despite the length of the recipe and the time involved, the dish wasn't complicated to make and that it was some of the best tiramisu they've ever had.
I'm glad I took their advice – this was hands down one of my favorite daring bakers challenges to date. The tiramisu was surprisingly easy to make and it tasted fabulous! Not too sweet (though I did cut down on the sugar slightly) with the perfect balance of cream to cake. It also freezes really well, which is great because keeping it readily accessible in the fridge would be way too dangerous! Keeping it in the freezer allows me to thaw just the amount that I want – and makes it difficult to go back for a second slice! I would definitely make this recipe again – it would be the perfect ending to a dinner party.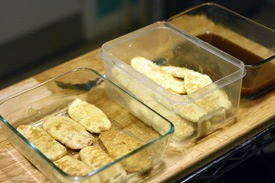 The one downside of this recipe is that is does take some advance planning if you're making it completely from scratch. The cheese itself takes a day to make. Then you'll want to make sure that the creams have time to chill before you assemble the cake (a half hour in the freezer was enough for mine). Once assembled, you'll want to let the tiramisu rest for at lest a day to allow the flavors to meld together. I promise you though – it's worth the wait!
This recipe is different from a lot of other tiramisu recipes in that it uses a zabaglione (an egg custard) and pastry cream in the filling. He flavors his with marsala wine, but I didn't have any of that, so I used kahlua. I really liked the extra coffee flavor that this gave the final dish. You can use whatever you want though – and it doesn't need to be alcohol. Extra coffee would be great, as would a fruit puree if you want something less traditional.
This is a long one, so the recipes are after the jump.