Yesterday – August 8 – was "National Sneak Some Zucchini onto Your Neighbors Porch Day." It sounds like a joke, but think about it. If you have a garden (or know someone who has a garden) chances are you've been up to your ears in zucchini and summer squash for a few weeks already. You might be sick of them. And looking for an excuse to sneak some on an innocent neighbor under cover of night. But this gratin might just rekindle your love of the ubiquitous summertime vegetable.
As delicious as my tea-smoked salmon with lavender and honey glaze was (Have you seen it yet? Entered to win some tea?), this gratin held its own. Served together, dinner was an event. I half expected fireworks to go off as I finished my plate. The squash bakes in their own juices until they are soft and delicate. The tomatoes begin to dry from the heat of the oven, leaving them sweet and intensely flavored. The sharp Parmesan and crisp breadcrumbs lend classic comfort. And then, there's the unexpected. Instead of using italian seasonings, you take a little detour through the south of France thanks to fresh thyme and herbs de Provence (a mixture of savory, fennel, basil, thyme, and lavender).
Sure you may be reluctant to turn your oven on in the height of August. Wait for a rainy day if you must. But I wouldn't wait. Really, it's already so hot that having the oven on doesn't seen to make it any worse. And even if it does, it's totally worth it.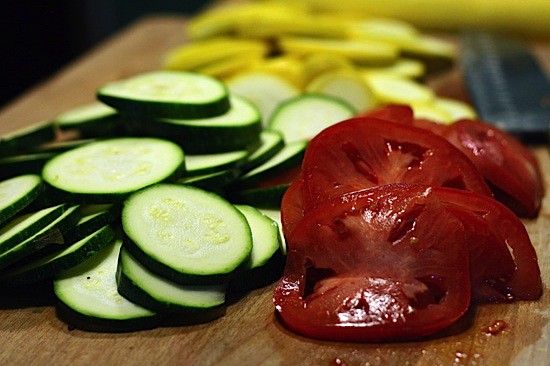 Zucchini and Summer Squash Gratin
1.5 Tbs olive oil, divided
1 onion, thinly sliced
2 cloves garlic, minced
1 Tbs fresh thyme
1 zucchini, cut into 1/4-inch rounds
1 summer squash, cut into 1/4-inch rounds
2 roma (plum) tomatoes, sliced
1 Tbs herbs de Provence
1/2 cup grated Parmesan cheese
1/4 cup panko bread crumbs
Heat 1 Tbs olive oil in a medium skillet set over medium heat. Add the onion and garlic and cook stirring occasionally, until golden brown and very soft — about 5 minutes. Stir in the thyme. Spread the onions in the bottom of a medium casserole dish (I used a 10.5 by 7 Le Crueset baking dish).
Begin to layer the squash and tomato in the pan, letting them overlap slightly – I did one row on zucchini, one row of summer squash, and one row of tomato. Sprinkle with a little bit of the herbs de Provence and about 1/3 of the cheese. Make a second layer of vegetables, using the same technique as the first layer but mixing up the order of the rows so that you don't have two layers of the same vegetable stacked right on top of each other. Add more herbs and cheese. Make one final vegetable layer. Top with the rest of the herbs de Provence and the cheese. Sprinkle a thin layer of panko bread crumbs over the top and drizzle with the remaining 1/2 Tbs of olive oil.
Bake at 375 for 60 minutes. Let rest for 10 minutes before serving.
Serves 4
****
I'm submitting this post to Two for Tuesdays, a weekly blogging event about cooking Real Food.
By