I haven't cooked much this week. I'm still not feeling great and summer finally decided to join us, so out of nowhere it's become ridiculously hot. I really wanted real food tonight, even though I didn't feel like cooking, and this meal was perfect. It was easy to make, required very little prep, and was refreshing and not too heavy.
I've been dreaming of this sandwich ever since I saw the idea in Newsday a few weeks ago – it's basically your standard BLT, but with watermelon instead of the tomato. I know I've said that I hate watermelon, but those cocktails I made totally changed my mind on that one. I also don't love raw tomatoes, so I thought this might be a nice alternate. I served the sandwiches with homemade potato chips and blue cheese dip. I also did a little experiment – I had heard of people making chips in the microwave, so I fried some and microwaved some and did a little taste test.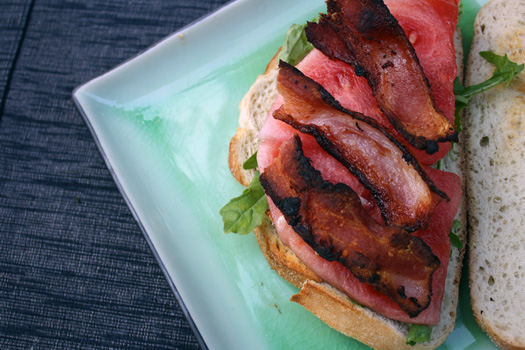 So, the sandwich…. I absolutely loved the way that the sweetness and juiciness of the watermelon played against the saltiness of the bacon. I also toasted the bread to get a little more textural interest – this alsp helped keep the sandwich from getting soggy. I was worried that it would be dry, but I should have known better than to think something with watermelon would be dry! Shawn did put a little mayo on his sandwich, but unless you really love mayo I think you can leave it off. I certainly wasn't missing it. There was enough moisture from the melon.
I used the slicing side of my box grater to cut the potatoes into paper thin rounds for the chips. I frid most of them in oil, but set some aside for my microwave experiement. I have to say, that I was impressed with how the microwave chips came out! They were a little crispier and less oily, and the salt didn't stick to them very well so I enjoyed the traditional chips better when eaten plain. But with dip? I honestly couldn't tell them apart. Which was a nice surprise and not what I was expecting at all.The only downside to the microwave version is that since you need to cook them in a single layer, you can't make that many at a time.
Watermelon BLT
4 slices sourdough bread
4 slices center-cut bacon, cooked
1/4 seedless watermelon, cut into 1/2-inch slices
arugula
cracked black pepper
Lightly toast the bread. Arrange the bacon, watermelon, and arugula on two slices of bread (keep the watermelon as the middle layer, to keep the bread from getting soggy). Season with black pepper and top with second slice of bread.
Homemade Potato Chips, two ways

2 medium potatoes
oil for frying or cooking spray
sea salt
Slice potatoes thinly on a box grater or mandolin.
If frying: Pour 1-inch of oil in a deep sized pot. Heat to 350. Fry potatoes in 3 batches for about 4 minutes per batch or until cripy and lightly browned. Remove from oil with a slotted spoon and allow to drain on paper towels. Sprinkle with sea salt.
If microwaving: Mist potatoes lightly with cooking spray. Arrange in a single layer on a microwaveable dish. Cook for about 5 minutes on high heat, until potatoes begin to brown and crisp. Sprinkle with salt.
Blue Cheese Dip
1/4 cup blue cheese, crumbled
1/4 cup low fat our cream
a few drops of lemon juice
Combine all ingredients. Mix well.

Serves 2.

By