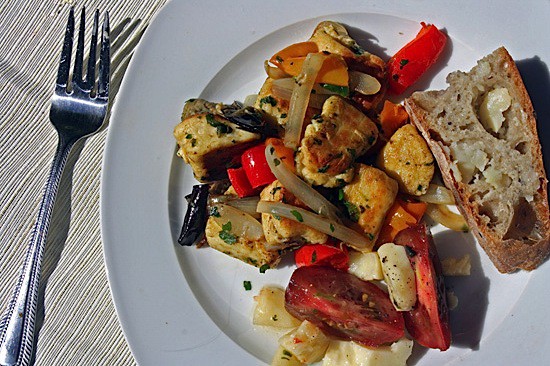 One of the best things about living in upstate New York is that we're surrounded by farms and have easy access to all sorts of awesome produce; locally raised, grass-fed meats; and artisan cheese. Most of our Farmers Markets stay open year-round, but the selection available in August and September is mind-boggling.
This past weekend I headed out to the Troy Waterfront Farmers Market with two of my blogging friends, Cynthia and Rebecca. We were amazing at the amount of produce that was available! The summer crops were still going strong, but there were also plenty of apples, pumpkins, and other fall goodies to be had. It was the best of both worlds! The Troy Market is one of the bigger ones in the area, as well as one of my personal favorites. Cynthia had never been before and she was a little overwhelmed by it all!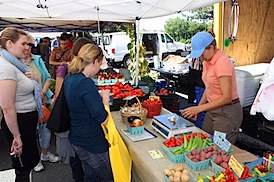 At the market, we were on a mission: I Can't Believe it's Not Butter (ICBINB) had invited me to host a Farmers Market Tour, where we would buy some fresh ingredients and then bring them back to my house to turn into a healthy, delicious lunch. Earlier this summer I attended an event that was hosted by Unilever, and I was really surprised to find out how versatile ICBINB is.
I always have a bottle of the spray in my fridge — I like how easy it is to spritz on just a little bit, and it tastes great on grilled corn without adding any calories — but it never occurred to me to cook with it. Did you know that you can bake with it? Or that it comes in stick form? I certainly didn't! At the event, I sampled a blueberry muffin that had been made with the sticks, and I was very impressed. So I was happy to host this event and have the opportunity to experiment with the product a little more.
We had a blast shopping and cooking, and our lunch was fantastic — we even discussed making Farmers Market Lunches an excuse for regular get-togethers! We ended up getting a bunch of vegetables and garlic that we roasted with the ICBINB and tossed with homemade ricotta gnocchi and a "butter" and basil sauce. We also bought an olive focaccia at the market, which we served with more of the roasted garlic, heirloom tomatoes, and marinated mozzarella. After all that, we were almost (but not quite) too stuffed to taste the peach and raspberry crisp that we made for dessert!
I was particularly impressed with how well the gnocchi fried in the ICBINB. Cynthia and I had been talking earlier about how we love the sounds of food sizzling while it cooks — the gnocchi had some great sizzle-action going on! You can even hear it in the video that we took!
I want to say thank you to I Can't Believe it's Not Butter for giving me this opportunity to hang out and cook with my friends. I hope you enjoy this video that we took of the market and while we were cooking. The recipe for the gnocchi is below.
Ricotta Gnocchi with Roasted Vegetables
Homemade ricotta gnocchi may seem impressive, but it couldn't be simpler to make!
For the vegetables:
1 pint mini bell peppers, seeded (can sub 2 bell peppers)

1 eggplant, sliced

1 head garlic

20 pumps of I Can't Believe it's Not Butter Spray

salt
For the gnocchi:
1 cup fat free ricotta

1 cup all-purpose flour + more for dusting

1 generous pinch salt

1 large egg
1/2 stick I Can't Believe it's Not Butter (4 Tbs)

1 bunch basil, finely chopped

1 onion, sliced
To prepare the vegetables: Preheat oven to 400. Sprinkle salt over the eggplant slices and let stand for 10 minutes to dray some of the moisture out — this will prevent it from being too bitter. Rinse the salt off with some water. Slice the top off the garlic to expose the cloves inside. Spritz with ICBINB spray and wrap in foil. Place on a baking sheet. Arrange the eggplant slices and peppers on the baking sheet and spritz with the butter spray. Bake for 40 minutes, or until everything is tender. Chop the peppers and eggplant into bite-sized pieces.
Meanwhile, prepare the gnocchi: Open the tub of ricotta and pour off any liquid that is resting on top of the cheese. Place the ricotta in a mesh strainer for a half hour to allow additional liquid to drain out. In a medium bowl, combine the strained cheese with the flour, salt, and egg. Gently mix until it comes together to form a dough. Cover and refrigerate for 5 minutes. Sprinkle a cutting board with flour and take out a third of the dough. Gently roll the dough into a long rope, about an inch in diameter, adding additional flour as needed. Cut into 1-inch long segments. Repeat with remaining dough.
To assemble: Heat 2 Tbs of ICBINB in a large skillet. When it is melted and hot, add the gnocchi (cook it in batches if you need to so you don't overcrowd the pan). Cook until the gnocchi is browned and crispy on all sides — about 5 minutes. Remove the gnocchi and set aside. Add the remaining ICBINB to the pan. Once melted, add the basil and the onion. Cook for 5-6 minutes, or until the onion is soft and sweet. Add the gnocchi, roasted peppers and eggplant along with half of the roasted garlic. Stir to coat everything with the basil and butter sauce.
Serves 4.
Approx. 290 calories, 17 grams fat, 6.5 grams fiber, 12 grams protein
FTC Disclaimer: I Can't Believe it's Not Butter provided us with free products as well as money to spend at the market and the video camera. However, all opinions stated above are my own and I have been buying their product for years.