This meaty turkey and white bean chili and spicy cornbread have a secret – both have pureed vegetables hidden inside! This post was sponsored by Green Giant® Veggie Blend-Ins™. Thanks for supporting the brands that keep me inspired in the kitchen!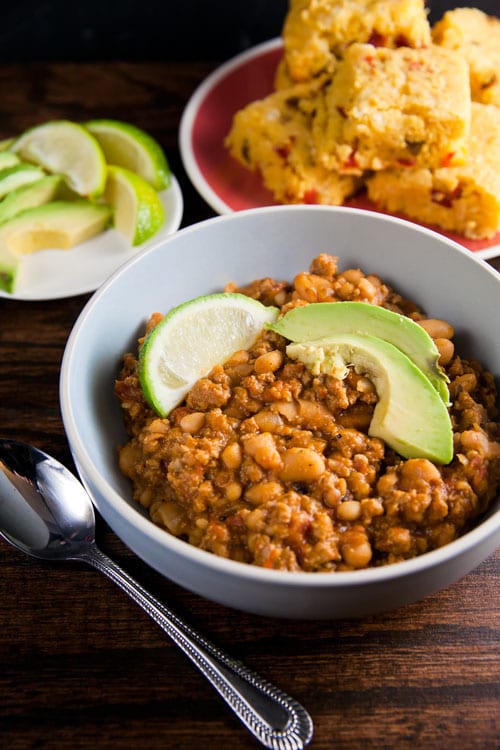 When we were putting together out grocery list last weekend, Shawn asked me if I would make chili. I groaned a little since I'm ready to move on to more Spring-like recipes, but since I haven't made it much this winter and since chili is one of his favorites, I agreed. Then I remembered that I was expecting a box of Green Giant® Veggie Blend-Ins™ in the mail and I got pretty excited about the thought of sneaking some carrots into his chili.
Then, for good measure, I replaced the eggs in our cornbread with butternut squash puree. You know, just to see how he would react.
The verdict? He had no idea, and both dishes were delicious. The carrots blended right into the chili, which I made with turkey breast, white beans, and chipotle peppers. It was hearty, spicy, and filling! I especially loved the cornbread, which was extra moist and cakey. My mom adds a box of yellow cake mix to her cornbread – it's awesome, but so not healthy. This reminded me of that.
So he was happy because I made chili and I was happy because I was eating vegetables. Win-win!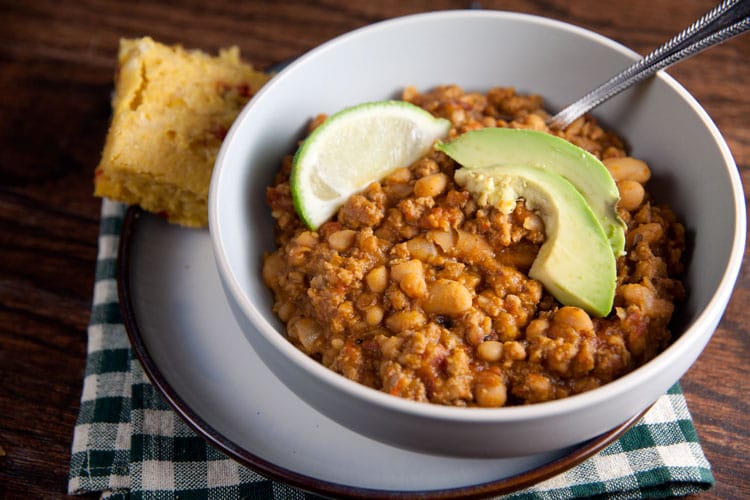 I don't normally agree to accept samples of products that I don't already use and love, but I made an exception for these since I really liked the concept. I'm definitely not new to the idea of sneaking vegetables into other dishes (like zucchini in my burgers, squash in my mac and cheese, and even peas in my cookies) and that's what these pouches of pureed veggies are meant for.
I'm kind of amazed that there hasn't been anything like it before, since it's such a great concept! I've tried using butternut squash baby food in some recipes… it's not the same and had kind of a funky taste that I don't like at all. Frozen butternut squash puree works well, but I do't always feel like waiting for it to defrost, and there's usually way more than I need in a package, so most end up getting wasted. These pouches are stored at room temperature and each contain a little over a cup of 100% carrot, butternut squash, or spinach (depending on the variety you get) which is the perfect amount for sneaking into most recipes.
The only downside that I saw was the price – a box of 9 pouches is $14.06 on Amazon (so a little more than $1.50 each). They're really convenient though, and I can definitely see myself using the carrot and squash pretty frequently. (I haven't tried the spinach yet…it seems like it would work best in chocolatey desserts that will hide the color, but when I make dessert, I want dessert…. I'm really not looking for something healthy there.)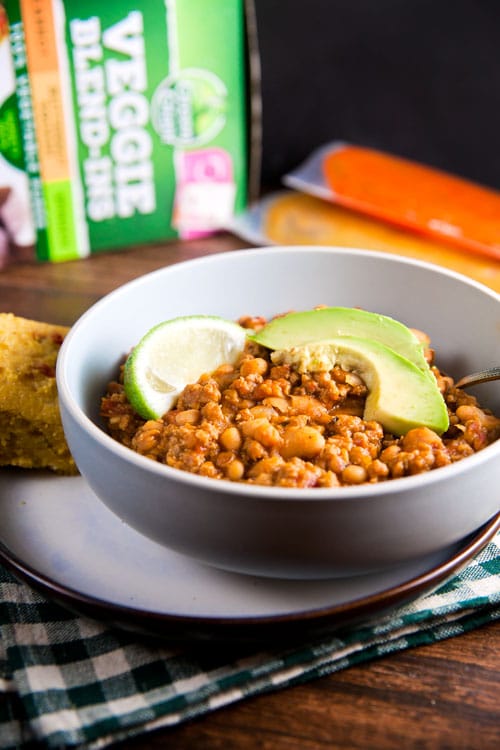 Ingredients
1

Tablespoon

vegetable oil

1

pound

ground turkey breast

1

small yellow onion

chopped

2

garlic cloves

minced

1

chipotle chile

from a can of chipotles en adobo,diced

1

Tablespoon

adobo sauce

1

Tablespoon

oregano

2

teaspoons

roasted ground cumin

1

teaspoon

Ancho chile powder

½

teaspoon

ground coriander

1

can

14.5 ounces diced fire roasted tomatoes

¾

cups

chicken stock

1

cans

14 ounces cannellini beans, rinsed and drained

2

cans

14 ounces small white beans, rinsed and drained

1

packet Green Giant® Veggie Blend-Ins carrot puree

2

limes

1

avocado

sliced (optional)
Instructions
Heat the oil in a large pot over medium high heat. Add the turkey; season with salt and pepper and cook for 4-5 minutes, or until browned. Break up the meat and cook an additional 3-4 minutes. Transfer to a plate.

Add the onion and garlic to the pot; cook until soft, about 3 minutes. Add the chipotle peppers, adobo sauce, and spices. Cook 1-2 minutes. Add the tomatoes and chicken stock; bring to a simmer. Add the beans and turkey. Cook uncovered for 60 minutes (if the chili gets too thick, cover for the last 15-20 minutes).

Stir in the juice form 1 lime. Serve with lime wedges and sliced avocado.
Nutrition Facts

Turkey and White Bean Chili

Amount Per Serving

Calories 440

Calories from Fat 79

% Daily Value*

Fat 8.8g14%

Protein 41g82%

* Percent Daily Values are based on a 2000 calorie diet.

There's no real recipe for the cornbread – I used a box mix but substituted one pouch of butternut squash puree for the eggs. I also mixed in 1/4 cup of shredded pepper jack cheese and about 2 tablespoons of chopped cherry peppers.

By