If you're like me, weeknight cooking can feel overwhelming. In this post, I'm sharing a few of my favorite tips and tricks to relieve some of the stress by providing a framework for your week.
This post was sponsored by California prunes, through Kitchen PLAY.
Weeknight dinner is
hard
. I never used to understand when people said they didn't have time to cook, but now I totally get it. I get home from work pretty late a lot of nights and, by the time I get there, I just want to veg out in front of the TV. For me, having a plan for the week ahead is critical.
I used to be really good about sitting down every Sunday morning and planning out my meals for the week, but lately, life has gotten in the way and that's fallen to the wayside. My weekends are just too busy, especially in the summer. Since I'm not good at winging it, no planning usually means I come home, stare blankly at the fridge for a few minutes, and order delivery. It's not good for my diet or my bank account.
Thankfully, I do have a few tricks up my sleeve that help ease the pain and take some of the stress out of weeknight cooking.
1. Meal Kit Services
It might sound funny coming from a food blogger, but meal kits are my personal secret weapon for weeknight cooking. Not having to come up with ideas of what to make takes away a ton of stress, and it's amazing how much time you save when you don't have to measure and prep your ingredients. I've tried a few different services and all of them have been great for various reasons. A few weeks ago, California prunes sent me a box from Chef'd which is a new to me service that delivers easy to make, pre-portioned and ready-to-cook meals.
Chef'd and California prunes recently partnered to launch three kits with recipes developed by The Nutrition Twins®, nationally recognized registered dietitian nutritionists Tammy Lakatos Shames and Lyssie Lakatos. I was really excited to try the
Moroccan Spiced Shrimp Skewers with Toasted Chickpeas, and California Prunes & Quinoa Salad
(pictured above). As promised, the recipe was easy to make and delicious. They sent everything I needed, right down to the wooden skewers, and pre-measured quinoa and shredded carrots meant I didn't need to spend much time on prep at all. Plus, check out the size of those shrimp! My kit also made enough that I had leftovers for the next day – score!
This meal did take some time to prepare, but that was mostly because it takes a half hour to boil quinoa. Take care of that ahead of time on the weekend, and you'd be well on your way to a lightning fast weeknight dinner. Chef'd also sent a few single serving packets of prunes for snacking. These are great to keep in my purse for an on-the-go snack – a single serving has 100 calories and 3 grams of fiber and it prevents me from getting too hangry before I get home.
2. Grocery Delivery
Grocery delivery is the next best thing to meal kits when it comes to taking some of the stress out of weeknight cooking. You still have to decide what you want to make and do the prep work yourself, but not having to actually go to the store saves a lot of time. I can look through
my favorite healthy cookbooks
and blogs for recipe ideas and order the ingredients right from my couch. I also tend to save money since I'm less likely to make impulse purchases. Less cookies in my cart means more money in my pocket, which is always a good thing.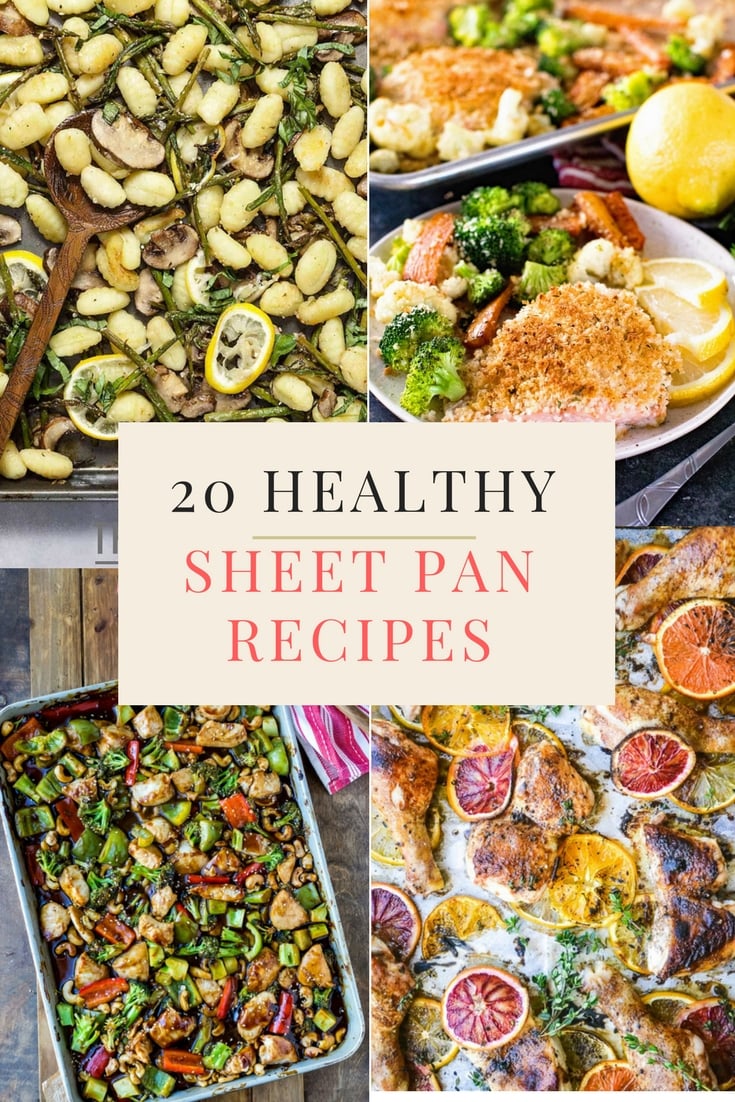 3. Sheet Pan Meals
I'm a huge fan of making
healthy sheet pan dinners
. All you have to do is combine a protein, a starch, and vegetables on a sheet pan and let the oven do the work for you. These do take a little time to cook, but it's inactive time so you can put your feet up, pour a glass of wine, or change into your comfy clothes while dinner is getting ready. Once your food is cooked, finish it off with a flavorful sauce to add some interest. My favorites are pesto, chimichurri, and peanut sauce. With a little experimenting, you can turn just about anything into a sheet pan meal – from General Tso's Chicken to sausage and gnocchi.
4. Slow Cookers/Pressure Cookers
I have a slow cooker and an electric pressure cooker, and I use both depending on my mood and when I feel like doing prep. Both are great for saucy foods like pulled pork or stews, that use a lot of cooking liquid. When I know I'm going to have a late night the next day, I'll prep ingredients before bed and keep them in the fridge overnight, then throw them into the slow cooker in the morning. It only takes a few minutes and dinner, like this
honey bourbon pulled chicken,
is ready and waiting for me when I get home.
When I have more time after work, I usually turn to my pressure cooker. These are better suited for recipes like
Instant Pot Chicken Curry
that are a little more complicated and require you to sear meat or sauté vegetables. They do take some time to heat up, but are often quicker and easier than cooking on the stovetop. I think of pressure cooker meals as an alternative to sheet pan meals. They're also great for meal prep – I can easily make a big batch of boiled eggs to last me through the week.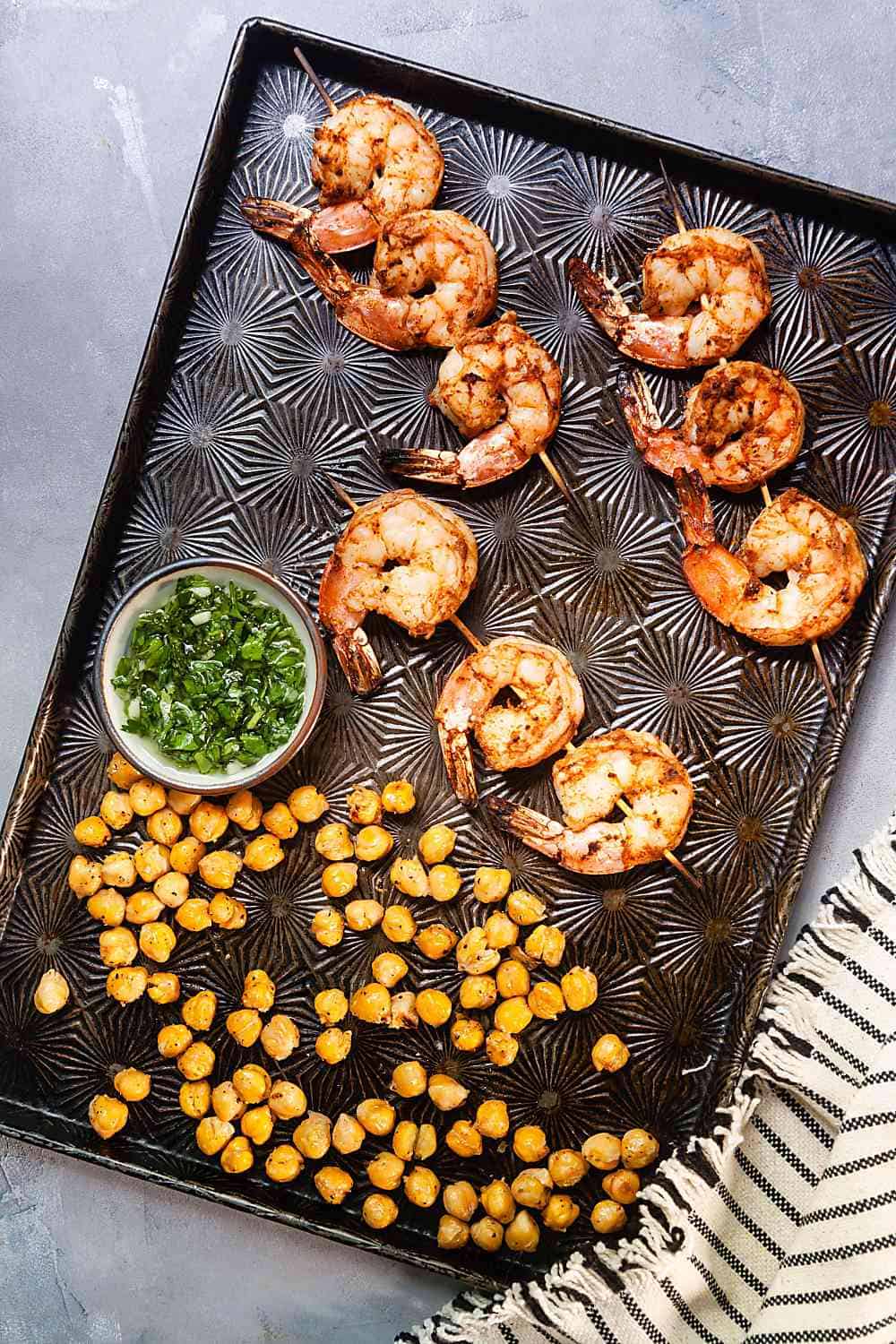 5. Quick Cooking Proteins
Save the chops and roasts for the weekend. Quick cooking proteins like shrimp, salmon, beans, and tofu are my weeknight staples. Shrimp and salmon take less than 5 minutes on the grill or under the broiler (check out this
Two-Minute Salmon Teryaki
) and beans just need to be heated or strewn on top of a salad.
This time of year, I also always have a pack of organic beef burgers in my freezer for easy grilling. You can cook them right from frozen and they come out great. I skip the bun and wrap them in lettuce to save calories – plus they taste meatier that way! You could also use premade meatballs to majorly cut down on prep time for my
North African Meatballs with California Prunes and Pine Nuts
.
Mix and match these tips to create a weeknight meal plan that works for you and your lifestyle. Depending on the week, I'll usually buy 2 or 3 nights of dinners from a meal kit service and then order groceries to make a sheet pan meal, a slow cooker or pressure cooker meal, and a quick protein to use on its own or for topping a salad. Pulling an idea or two from each category makes coming up with ideas easier and keeps things interesting so I don't feel like we're eating the same thing every night. And going into the week with a plan means I'm more likely to actually cook and eat a healthy dinner!