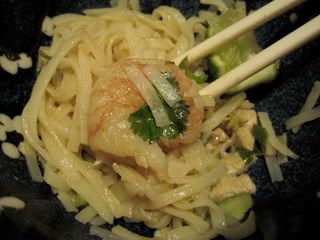 Spicy, Salty Sour, Sweet, gimme something good to eat! This delicious dish, inspired by sea salt with food will dazzle your tastebuds with its various flavors: spicy peppers, sour lime, and sweet fish sauce. I couldn't get over how simple this was to make, and how good it tasted. I'm already looking forward to leftovers for lunch. I think I'll eat them at room temp.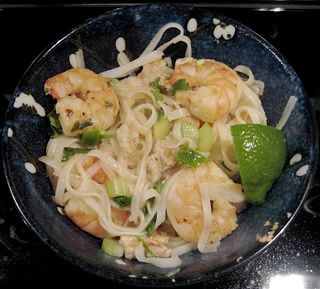 7 oz (half box) of Thai stir fry noodles
1 T grapeseed oil
1 shallot, minced
Juice of 2 limes, separated
1/2 lb shrimp (20-25 ct), peeled
1 small boneless pork chop, trimmed and minced
1 T. flour
1/4 c of fish sauce
1 tsp sugar
3 long peppers, minced
1 stalk celery, chopped
1/4 c. chopped cilantro
Chili oil for finishing
1. Bring a large pot of water to a boil. Remove from heat and add noodles. Set aside.
2. Squeeze the juice of one lime over shrimp, and let sit for 5 minutes. Toss pork in flour to coat.
3. Combine fish sauce, sugar, and juice of one lime in a small bowl. Set aside.
4. Heat oil in a large skillet over medium- high heat. Add shallot and cook until they become opaque. Add pork, stirring well to break up pieces. Cook about 5 minutes. Add shrimp, and cook until done- about 5 minutes.
5. Drain noodles. Add noodles, celery, peppers, and cilantro to meat and todd to combine. Add sauce, stirring well. Finish with a drizzle of chili oil and garnish with a lime wedge.
Serves 4.
ps- check out this giveaway from fake ginger. She's giving away pearl bracelets to promote heart health.