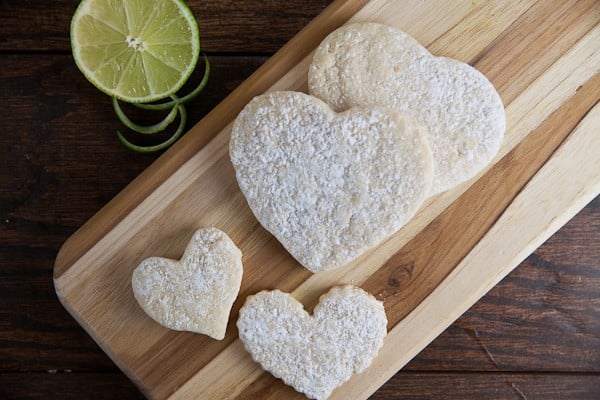 Mardi Gras + Valentine's Day in the same week = booze-y Valentine's treats, y'all!
I was having too much fun baking the other day , so I decided to make some tequila-lime hearts to go along with my double-chocolate + red wine cookies. Because the only thing better than a glass of wine is a margarita, right? You just know it's going to be a good day in the kitchen when you're breaking out the tequila at 10am.
In the end, I couldn't pick a favorite between the two recipes. They're both so good, and so different from each other. Where the chocolate cookies were rich and decadent, these sugar cookies are tart and cooling.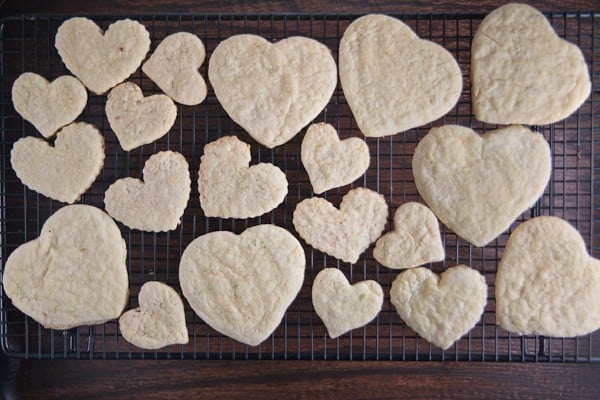 I cut my cookies into heart shapes in order to make fun Valentine's treats to share with my friends, and I was just delighted with the way they turned out (Thanks to everyone who gave me suggestions on Facebook about where to find heart-shaped cutters. It was surprisingly difficult!)
There's still plenty of time to do the same yourself (starting with packaged mix makes these cookies so easy to pull together – you don't even need to dirty up a measuring cup) but you can always cut them into whatever shapes you want. Plain old circles would be nice (use green decorating icing to make them look like limes) or you could try shamrocks for St. Patrick's Day.