Fate smiled down on me last week when I opened the box containing the mystery ingredient for week two of the Tazo Cookoff. I had been dreaming of a tea enriched breakfast appropriate rice pudding for months. When I was first asked to participate in this challenge I knew I finally had an excuse to actually make it. But I wanted to step things up for this challenge so I decided that instead of using rice I would use quinoa. I crossed my fingers and hoped that one of the mystery ingredients would work in this dish.Imagine my delight when I opened he week two box only to find a jar of organic red quinoa waiting to take part in some culinary magic. My quinoa pudding was meant to be.
I used boxed vanilla rooibos latte concentrate for this recipe because cooking with a product clearly meant for drinking (even more than tea in general) seemed fun. Plus it meant that I didn't need to add any additional sugar or spices (the concentrate is slightly sweetened and contains vanilla and cinnamon). Complete with toppings, this recipe contains a grand total of six ingredients. You can't get much simpler than that!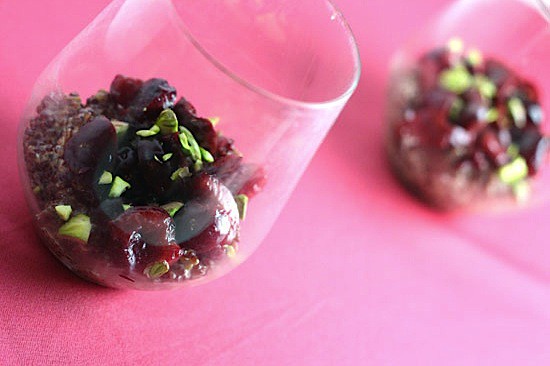 The quinoa gives this pudding a nutty flavor and a coarse texture — it lacks the creamy starchiness or rice pudding and reminds me more of steel cut oats. The flavor of the tea is very prominent and combined with the sweetness of the cherries and the crunch of the pistachios, it makes a great breakfast or a filling snack.Also, vanilla rooibos lattes? Totally my new favorite drink. Warm and creamy, with a slightly floral this drink reminds me of the perfect rainy day. The kind where you have nothing better to do than sit in your yoga pants, drink tea, and curl up with a book while the rain softly pitter patters outside the window.
A few tips for making this pudding:
Make sure to rinse the quinoa well. Until the water runs clear. This will prevent it from being bitter.

Ignore the directions on the back of the box of concentrate. If you look at the box, you'll be tempted to use more concentrate than this recipe calls for. That would be a huge mistake. Even though you start with a cup and a half of milk, it reduces down to form the pudding and you'll only end up with about a quarter cup of milk in the final dish. If you use too much concentrate the ratios will be way off and your pudding will be far too sweet.
Vanilla Rooibos Quinoa Pudding with Cherry & Pistachio
For a more dessert-like pudding, use rice instead of quinoa. Cherries are delicious, but any combination of a seasonal fruit and complimenting nut will work.
1/2 cup red quinoa, rinsed well
1 cup skim milk
1/2 cup heavy cream*
1/4 cup vanilla rooibos tea late concentrate
1 cup cherries, pitted and chopped
2 Tbs chopped pistachios
Combine the quinoa, milk, cream and tea concentrate in a medium saucepan over low to medium heat. Cook, stirring frequently, for a half hour. For the first 20 minutes, the mixture will seem very liquidly, but after that it will begin to reduce very quickly. Keep a close eye on it at this point. When the mixture has reduced down to a pudding-like consistency, remove it from heat. Chill for at least a half hour.
Add the cherries to a small sauce pan with a tablespoon of water. Cook over medium heat until soft and slightly syrupy. Top the quinoa pudding with the warm cherries and a sprinkle of chopped pistachios.
Serves 4
* I added the cream because the pudding won't reach the right consistency without a little fat and I only had skim milk. Feel free to substitute 1-1/2 cups whole or reduced fat milk for the skim milk and cream.
****
Looking for a second chance to win a great Tazo gift pack including a one year supply of tea and a selection of tea-brewing essentials? You'll be entered one time for every comment you leave on one of my Tazo recipes. This is recipe # 2 of 3. The first recipe was my tea-smoked salmon with lavender and honey glaze. (Every comment you leave will also help me win a $1,000 gift card to Williams Sonoma.)
I was provided with a selection of Tazo teas and quinoa to use as inspiration in this challenge. I have no affiliation with Tazo or Starbucks, and any opinions stated above are my own.