You may not have realized that I was gone since I had scheduled some posts to go up while I was away, but if you were wondering why my posting has been slow or why I haven't been returning comments it was because I was on vacation! A cruise to Bermuda which was fabulous – now I'm home and ready to get back into the kitchen! Regular posting will resume tomorrow. For now, here are some cruise highlights:
I didn't take too many pictures of food on the boat, because it really wasn't very good at all. It didn't look very nice either. I guess that's to be expected when the kitchen is preparing meals for 3,000 people, but I was still a little disappointed. There was a serious lack of seasoning, and the food just wasn't fresh. I am now 100% convince that fresh, local food tastes a million times better than food that's been shipped across the country and has sat for weeks. Even the eggs tasted totally different (and not good – almost spoiled). Food onBermuda was another story – fantastic! It was a little expensive, but i didn't think it was too outrageous. Especially since it tasted so good.
The lunch buffet on the cruise had an Asian section, which I thought has the best food since it was actually seasoned. Shown here is some vegetable vindaloo, a lamb patty, and some rice. And some melon.
One of our first stops on Bermuda was the grocery store! It was really hot out, and we knew we were going to be walking so we needed some drinks. I found diet ginger beer! It was great – I need to find some of this at home! It's a lot more gingery than ginger ale, and it was very refreshing.
Since Bermuda is in the British commonwealth, there was a lot of traditional British food around. I was so excited to find a Cornish pastry! I first discovered these in Wales about 10 years ago and I love them, but they're very difficult to find and I havenn't managed to make a good one at home yet (or at least a good one that doesn't have about a million calories!!). Ground beef, turnip, peas, and carrots in a sweet pasrty shell. Delicious. And so not healthy.
I forgot to bring the camera to dinner that night, but we ate at a cute restaurant right where the boat was docked called Bone Fish. It was surprisingly not too touristly given the location, and the food was very good. I had an appetizer of fried olives stuffed with asiago and Shawn had the fish chowder. For entrees we both got pasta with spicy sauce and seafood. The seafood was amazing – it was so fresh! I never knew calamari could be as tender as what we ate – it melted in your mouth and wasn't chewey at all.
Lunch the next day was at a cute restaurant in Hamilton called the Pickled Onion. Once again, the food was very good. We both started with the fish chowder since we had liked it so much at dinner. It didn't disappoint. I'll be making this at home very soon, so hopefully I'll have a recipe to share with you all soon!
I followed my soup up with the "pickled onion burger" which, again, was far from being helathy (hey, it was vacation!) but tasted amazing. Four cheese sauce, fried onions, and hot sauce. On a whole wheat roll, which made me laugh a little.
After that it was back to the boat for the rest of our meals. Since they were disappointing, I stopped bringing my camera with me. It's big and bulky so it's kind of a pain to carry around if I don't think I'm going to use it. I did have lamb at dinner one night that was presented beautifully and I wish that I had gotten a picure of it. It was huge! I think I ate about a third of it.
I did remember to bring the camera to lobster night though! I had a chilled pear soup with this, but I apparently didn't get a picture of it. It was good, but a little too sweet. The lobster was nice, and it was served with some garlicky shrimp. The shrimp were overcooked (proably cooked and frozen and then reheated – ew) but the flavor was pretty good.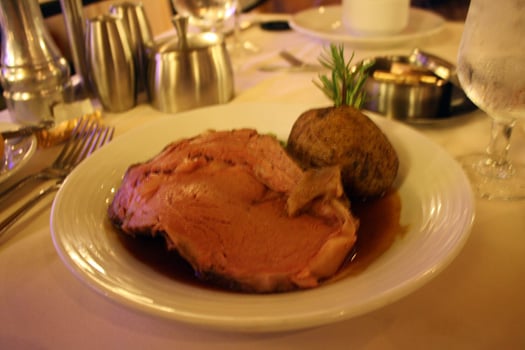 They also had prime rib. I'm not a huge fan of prime rib, but i did hae taste of Shawn's and it was surprisngly good – very tender. It could have used more seasoning though. I think that rosemary garnish was the extent of their attempt at "seasoning."
There was also a cooking demo on the ship. It was more funny than anything else, and they didn't really do much of anything (assemble a cake), but it was pretty entertaining.
****
I'll be back tomorrow with a new recipe! And a renewed focus on healthy foods – including some nutritional information for those of you who want it (after eating all of that food on vacation, I need it it for myself too!!)