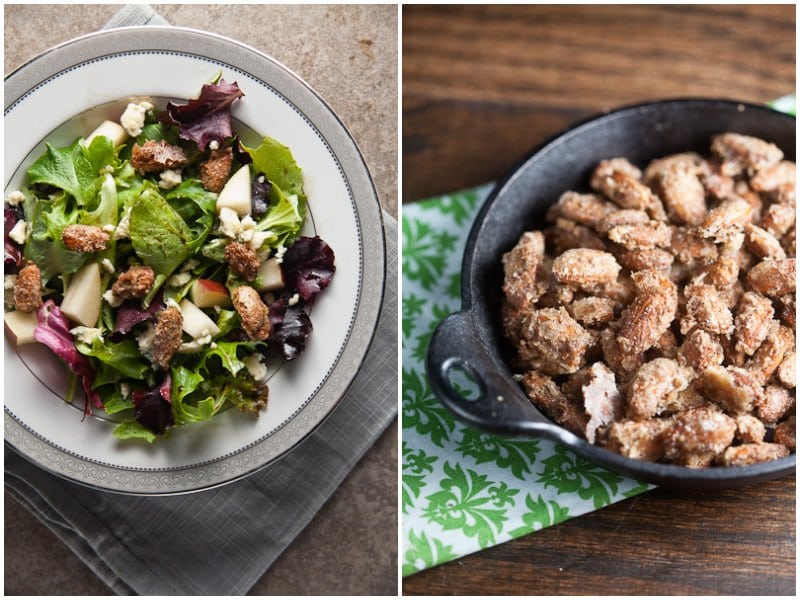 I'm not usually a fan of almonds (or walnuts) but I've been sneaking handfuls of these sweet and spicy candied almonds all weekend. They're totally addictive! The almonds are coated with a thick, crunch layer of caramelized brown sugar and cinnamon, with a hint of spicy cayenne – so, so, so good. They're also ridiculously easy to make… which could be dangerous!
It warmed up a little this weekend, so I decided to make some simple salads to go along with the pizza we had for dinner. I topped some spring mix with diced pear, blue cheese, and these almonds and dressed them with blackberry-ginger balsamic vinegar and olive oil. They stole the show. If you topped the salad with some chicken, it would make a wonderful entree.
It might sound weird, but the almonds also have a breakfast cereal type of a flavor going on, an I think they'd be fantastic in granola or chopped and added to bran flakes. Of course, you can also eat them out of hand as a great snack.
The original recipe for these comes from Cyndi, over at Cookin' With Cyndi. I was paired up with her for this month's Secret Recipe Club and, although her cooking style is much different than mine, she she a lot fo fun looking recipes. Cyndi is a rockstar when it comes to planning ahead and spends a lot of weekends making meals that she freezes. Be sure to check out her blog for loads of low-carb recipes and look after the jump for more recipes from this month's Secret Recipe Club participants.