Welcome to the party! Today's recipe is part of November's Kitchen Play Progressive Party – a fun, new series where once a month, six bloggers are assigned a course and tasked with using a featured product to create an original recipe. This month's sponsor isLindsay Olives and I'm serving up a delicious entrée of steelhead trout roasted with rosemary, orange, and olives over saffron risotto.
When the folks over at Lindsay asked which olives I would be interested in trying out, I was immediately drawn to their Naturals line, which are processed without artificial colors, preservatives, or other yucky stuff. These olives are pretty much as simple as you can get – the only ingredients listed on the can are olives, water, and salt! The olives themselves are meaty and buttery, with a smooth flavor that lends itself well to cooking.
I knew that I wanted to do something different with these olives than a typical tapenade and that I wanted them to be featured prominently in the entrée that I created. Since I loved the braised olives in Sally Bee's Moroccan Chicken, I wanted to try another preparation in which the olives were served warm. I decided to keep things simple by roasting them along with a few other ingredients and serving it over risotto (my motto: when all else fails, make risotto) and I couldn't have been happier with how this entrée turned out. Roasting the olives brought out their natural sweetness, and they paired perfectly with the fatty fish and bright citrus. This is a dish that I would happily serve to dinner guests (real or virtual) and that I look forward to making again!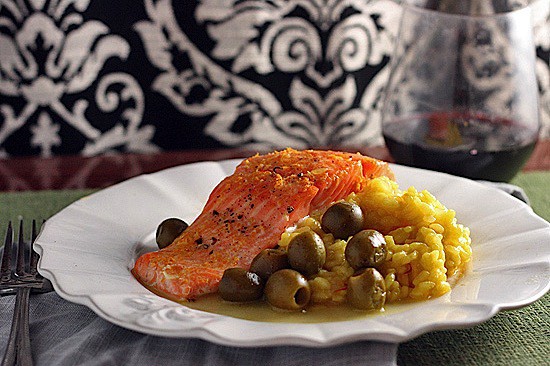 Ingredients
2- 6

oz

Steelhead Trout Filets

you can substitute Salmon

Zest and Juice from 1 Orange

2

sprigs fresh Rosemary

1

cup

Lindsay Naturals Green Ripe Olives

rinsed

Salt and Pepper

4

cups

Chicken Stock

2

pinches

Saffron

1

Tbs

Olive Oil

1

Onion

diced

1

clove

garlic

minced

1

cup

Arborio Rice

1

cup

white wine
Instructions
Preheat oven to 400ºF.

Rub the orange zest into the fish. Place the rosemary in the bottom of a cast iron pan or baking dish. Lay the trout, skin-side down, over the rosemary. Add the olives around the salmon. Pour the juice over the salmon and olives.

Roast for 10 minutes, or until the fish is cooked to medium. Season with salt and pepper.

Add the stock and saffron to a small saucepan set over medium heat. Bring to a simmer, then reduce heat to low.

Heat the oil in a large skillet over medium heat. Add the onion and garlic and cook for 5 minutes, or until soft and fragrant.Add the rice and cook, stirring frequently, until it becomes translucent with a small white dot in the center of each grain.

Add the wine. Cook, stirring constantly, until the wine cooks off and the pan is almost dry. Reduce the heat to medium-low.

Ladle in 1 cup of the chicken stock. Cook, stirring constantly, until the liquid is almost absorbed. Repeat this process, adding a half cup of stock at a time, until the rice is creamy and soft.
By