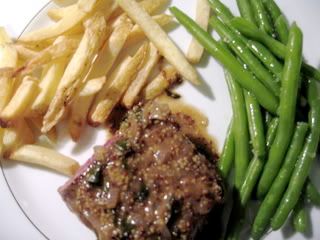 Mmmm… steak. Until recently, I was a steak purist. I wouldn't dream of putting anything on it except maybe some blue cheese crumbles. I don't know where this hang-up came from, but I'm glad I got over it! This sauce compliments the steak perfectly, and turns what would normally be a relatvely boring piece of meat into something wonderfully complex. I generally serve this with baked potato wedges or oven fries and blanched green beans tossed in a little olive oil and sprinkled with sea salt.
1 lb boneless sirloin steak, trimmed and cut into four pieces
1/2 tsp ground black pepper
2 shallots, chopped
2 T brandy
3/4 c beef stock
1 T grainy mustard
1 tsp fresh thyme, chopped
1- 1/2 tsp butter
Heat a medium frying pan over medium-high heat. Sprinkle steak with salt and pepper. Cook steak to you desired level on done-ness (about 3 minutes on each side for medium-rare). Remove steak from pan and let rest.
Add shallots to pan and sautee until they begin to soften. Add brandy and bring to a boil. Add stock, mustard, and thyme. Cook unti lreduces to about 2/3 cup. Add a dash of salt and pepper. Remove from heat and stir in butter. Serve sauce over steak.
Serves 4.
***
Meat-free Fridays is going to be a little delayed this week. I didn't plan very well and dinner was made on the fly by the hubby. I'll post about it later, but like yesterday it won't be a "real" recipe.