That's right – instead of topping our salad with steak, we're topping our steak with salad…and then throwing it all onto an awesome sandwich.
These hearty steak sandwiches are my favorite kind of meal – they're interesting enough for a special occasion (say, this weekend's Labor Day cookouts) but fast and easy enough to make on a weeknight. In fact, they can be on the table in just about a half hour!
Since Shawn hates raw tomatoes, I'm always on the lookout for interesting sandwich toppings to use in their place. Strawberries might not be traditional, but they totally work – especially with meaty grilled steak and red onion. I love the subtle sweetness that they add to each bite.
Start by mixing up a quick marinade from soy sauce, balsamic vinegar, brown sugar, and garlic. You can do this in the morning and let the steaks soak all day, but they really only need about 15 minutes for the marinade to work its magic and leave them irresistibly tender. Grill the steaks to a perfect medium rare, than let them rest for 10 minutes.
While the steaks rest, make a quick wilted spinach and strawberry salad. Cook lots of thinly sliced red onion until it's soft, then add some spinach and let it wilt. This is where things start to get really interesting – add about a cup of chopped strawberries and blue cheese crumbles then tie it all together with some dressing – I love the way Marzetti® Simply Dressed® Champagne Dressing pairs with the sweet strawberries (maybe you even have an open bottle in the fridge already from making my Chicken and Pepper Pasta?)
Pile everything high on some crusty bread and you're good to go! If you have extra salad, it's also great as a side dish. If not, these sandwiches are also great with a hand full of salt and vinegar chips.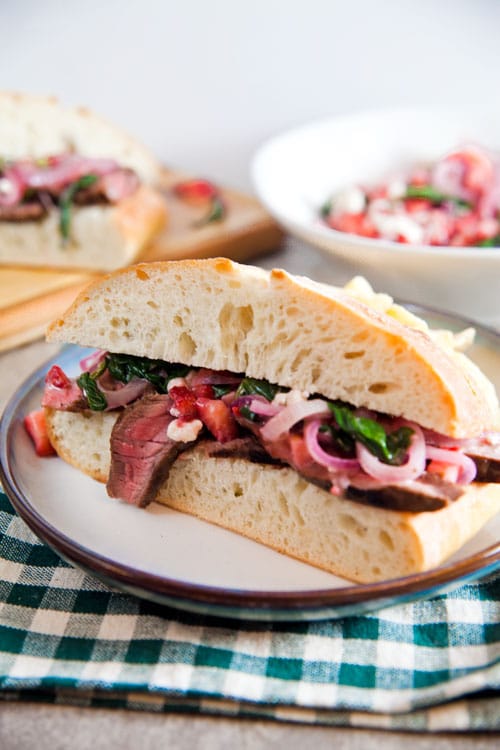 Disclosure: I have been invited to participate in a Marzetti® ambassador program. This post is sponsored by Marzetti and product has been provided by them. The opinions and ideas expressed here are my own. Thank you for helping support the brands that keep me inspired in the kitchen.