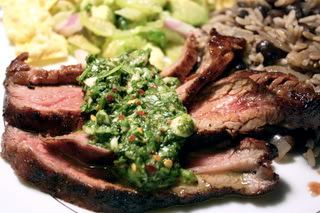 I'm surprised that I haven't posted about this yet, because we make it all the time! Steak chimichurri is one of my favorite summertime dinners and its very easy to make. I don't have much to say about it, other than that it is delicious. Oh, and that it takes a total of about 8 minutes to make.
I served it with rice and beans and tomatillo salsa with some Corners. And margaritas (on the rocks, with salt).
Steak Chimichurri
1 lb flank steak
1 tsp ancho chili powder
1 tsp chipotle chili powder
1/2 cup cilantro
2 cloves garlic, peeled
juice from 1/2 a lime
sprinkle of red pepper flakes
pinch kosher salt
2 Tbs olive oil
Heat grill. Season steak with chili powders, rubbing them in well. Grill to your desired level of doneness. Set aside to rest for a few minutes before slicing across the grain.
Meanwhile, combine remaining ingredients in a food processor. Process until everything comes together in a chunky sauce (about 5-7 pulses should do it). Spoon the saue over the steak.
Serves 4.