Tonight, I turned the Skirt Steak with Pickled Vegetables into fajitas. I told you I'd been craving those vegetables since I ate them last month! In tortillas, this was a totally different meal. I made the recipe as before with just a few changes:
1) I used flank steak becasue i couldnt' find skirt steak
2) I grilled it. Yes, outside in freezing temps. I'm a rebel. It was worth it. This is awesome grilled!
3) I let it marinate almost 24 hours (made it come together quickly after another super late night at work)
I served the steak and the vegetables in a white corn tortilla with a littl fresh lime juice. Delish!!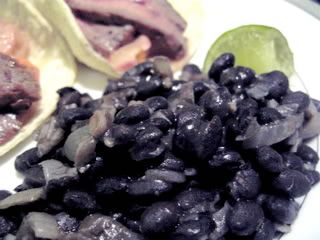 We had this with a side of black beans. Here's how I make mine:
1 T olive oil
1 onion, chopped
1 clove garlic, minced
1 can black beans, drained
1 cup water
2 T. white vinegar
cumin, oregano, and cilantro to taste
Heat oil in a skillet over medium-high heat. Add onion and garlic and good until soft. Add beans, water, vinegar and spices. Bring to a boil. Reduce to a simmer and cook, stirring occasionally, until all of the liquid cooks off.

By