Every year, I end up with a new go-to salad recipe. A salad that I turn to when I don't know what else to make for dinner, or to fall back on if I need a quick meal for entertaining. Two years ago it was a salad with sliced strawberries and cinnamon pecans. Last year it was an herb salad with lemon-poppy vinaigrette and fried goat cheese. This year… you're looking at it. (As an aside, I just noticed that my favorite salads always seem to involve fruit. Interesting!)
Topped with steak, onions, and asparagus, this salad is loaded with traditional steakhouse flavors; fresh fruit and a hoisin vinaigrette give it an Asian twist. It's hearty enough to please the most ardent meat-and-potato lovers but light enough to keep dieters happy. But most importantly, it's outrageously good. It has a sweet and salty thing going on that's simply amazing and there are so many interesting textures. My mouth is watering just thinking about it.
While the original recipe from Fine Cooking was pretty healthy as-is, I made a few changes to cut down on some of the fat. I also added more fruit to keep things interesting and bulk the salad up enough to ensure it fit square in the "entree" category. (Play around with the fruit to suit your own tastes but if you like pineapple, I highly recommend using it — it pairs incredibly well with the dressing.)A few months ago, I bought a non-aerosol oil mister similar to this one. I love it!! I never really liked to use cooking sprays (like Pam) because I don't know what's in them and they kind of creep me out. But with my mister, I know it's just the oil that I use normally. It's helped me cut down a lot on how much oil I use in my pan, and it's also helpful in recipes like this one. Instead of trying to coat the steak with oil from a spoon or a brush, I just spritz it with my mister – I end up using less oil, and it ends up with a more even coat. Win-Win!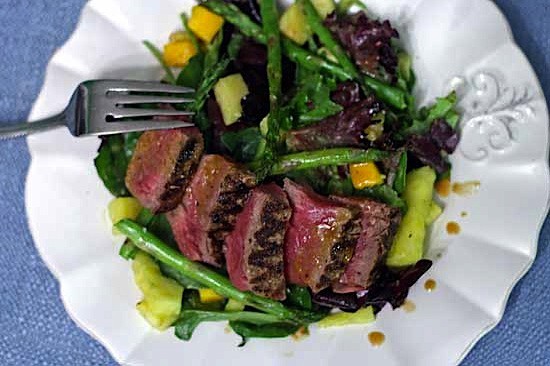 Steak and Asparagus Salad with Hoisin Dressing
Adapted from Fine Cooking Prep time 10 minutes, Total time 25 minutes Yields 2 generous portions
1 tsp. Ground Coriander
1/2 tsp. cracked Black Pepper
1 pinch Kosher Salt
1 tsp. Fennel Pollen (optional)
1/2 lb. Strip Steak
1 tsp. Olive Oil
1/2 lb. Asparagus
1/4 small Red Onion, cut into very thin rings*
2 cups Ice-Cold Water
1 package Spring Mix
1 Mango, diced
1 cup Pineapple, diced
1 Avocado, diced
1 recipe Hoisin Vinaigrette (below)
Combine the coriander, pepper, salt, and fennel pollen in a small bowl. Use 1 teaspoon of olive oil to coat both sides of the steak (alternatively, use an oil mister to lightly coat the steak with oil). Rub the steak with the spices and let rest for 10 minutes. Place the onion rings into the cold water and set aside.
Heat a grill pan over medium-high heat until it is very hot. Add the remaining 1/2 teaspoon oil and heat through. Place the steak in the hot pan and let cook for 10 minutes, or until grill lines form and the meat releases from the pan easily. Flip steak to the other side and add the asparagus to the pan. Cook an another 5 minutes, or until the steak is cooked to your desired level of doneness. Remove from heat and allow the steak to let rest for 5 minutes before slicing across the grain into bite-sized pieces.
Toss the spring mix, mango, pineapple and avocado with half the dressing. Top with steak, asparagus and onions. Drizzle with remaining dressing.
*I unfortunately forgot to put the onions on the salad before I took pictures, but you really want to slice them as thin as you possibly can — they should be almost shaved.
Hoisin Vinaigrette
Prep Time 5 minutes, Total time 5 minutes
Serves 2-4
2 Tbs Hoisin Sauce
1 Tbs Olive Oil
3 Tbs Water
2 Tbs Rice Vinegar
1-1/2 tsp. reduced-sodium Soy Sauce
1 tsp. Dijon Mustard
2 tsp. grated Fresh Ginger
1 clove Garlic, grated
Combine all ingredients in a jar with a tight-fitting lid. Close the lid and shake vigorously for 30 seconds, or until the ingredients have combined to form a dressing with a velvety smooth texture. Thin with additional water if desired.

Refrigerate until ready to use.

By