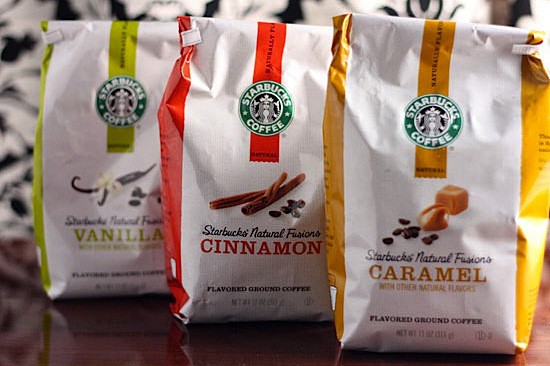 Over the past month, I've had plenty of posts about tea thanks to the
Tazo Cookoff
. Today I'm switching up gears with a post for all the coffee lovers out there.
If you know me, you know I love coffee. I started drinking it the summer before my senior year of high school and I've rarely spent a morning without a coffee cup in my hand since. In fact, I'm sitting in a coffee shop as I write this post (no, I don't have a problem or anything…) So I was super excited when Starbucks contacted me about trying their new, naturally flavored coffees, which will be available in stores this fall.
I was really impressed by these! The flavors are there, but are very subtle — more like putting cinnamon in your coffee grounds or adding a drop of vanilla extract to your coffee cup than the overwhelming flavor that some coffees like this have. Since I generally drink my coffee with just a splash of milk I also love that, unlike adding flavor with a syrup, these aren't sweet or full of calories.
I like the cinnamon flavor the best if I'm drinking hot coffee and the caramel flavor best if I'm drinking it iced. The vanilla is great either way. But why take my word for it when you can try it for yourself? Starbucks has agreed to send three lucky readers full-sized bags of each flavor along with a French Press and a mug. Just leave me a comment telling me which flavor you're the most excited to try. I'll pick a winner on Friday.