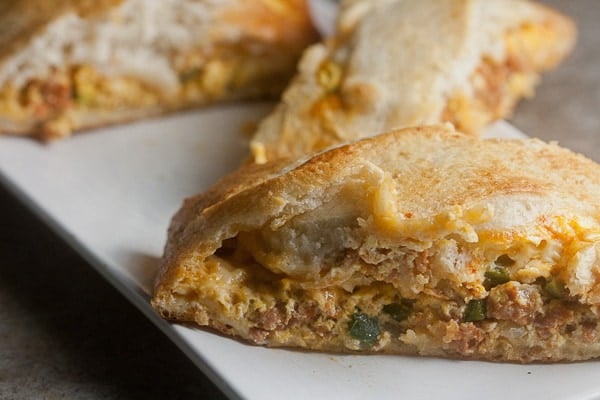 Remember when I used to actually add new recipes to my (sadly neglected) "Cooking for One" page? I started out with good intentions but, quite frankly, cooking for myself is no fun. On the nights that Shawn works, I usually grab leftovers, make English muffin pizzas, or skip dinner all together and go straight for the ice cream. I know, it's terrible! Anyway, when I realized that the end of the month was coming up (again, already!) and I would be forced to complete my Secret Recipe Club assignment on a night that he was working, I got kind of bummed out. It seemed like such a waste of time and effort to make an elaborate meal that I wouldn't be able to share with anyone. Luckily the blog I was paired with, Fried Ice and Donut Holes, is filled with easy recipes that I didn't mind cooking for myself.
I considered making the Buffalo Chicken Shepard's Pie or the Lemon Thyme Chicken, but I knew what I really wanted was breakfast for dinner. I ended up making the Easy Breakfast Braid. I love making stuffed bread, but had never considered a version filled with scrambled eggs before so this was a totally new concept for me. I loved how adaptable the recipe was! Melissa made her version with bacon and jalapeño. The original recipe that she based hers on used breakfast sausage. I decided to put a Southern spin on the braid by using an extra poblano pepper that I had laying around and some chorizo that's been in the freezer for forever. Making the bread only took a few minutes longer than making scrambled eggs would have been, and the result was gorgeous. And while it was definitely worth the effort of making it for myself, it also reheated beautifully – meaning we could share the leftovers for breakfast the next morning.
Ingredients
1

13.8 ounce can Refrigerated Pizza Dough

4

ounces

about 1 link Fresh Chorizo

¼

cup

chopped Onion

1

chopped Poblano Pepper

4

Eggs

lightly beaten

½

cup

shredded Pepper Jack Cheese

½

cup

shredded Cheddar Cheese

I used fat free because I happened to have some, and it was fine

1

Egg White

lightly beaten

1

Tablespoon

Water
Instructions
Heat oven to 425F. Unroll the dough onto a baking sheet that has been coated with cooking spray.  Pat the dough into a 15×10 inch rectangle.

Crumble the sausage into a large skillet set over medium heat. Cook until the sausage begins to brown. Add the onion and pepper. Cook, stirring occasionally, until the onion is softened – about 5 minutes. Add the eggs and cook 1 or 2 minutes, or until just set.

 Sprinkle the Monterey Jack cheese lengthwise down the center of the dough, leaving a 2 1/2 inch border around each side.  Spoon the egg mixture evenly over the cheese.  Sprinkle the cheddar over the egg mixture.  Make 2 inch diagonal cuts about 1 inch apart on both sides of the dough to about 1/2 inch of the filling, using kitchen shears.  Arrange the strips over the filling, alternating strips diagonally over the filling.  Press the ends under the braid to seal. Combine egg white and water in a small bowl. Brush over bread.

Bake for 15-20 minutes, or until the crust is golden brown.  Let stand for 5 minutes, then cut crosswise into 6 slices.
By