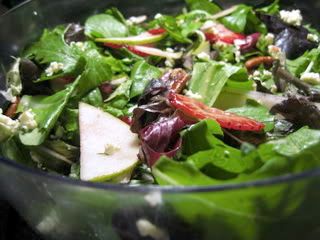 This year, my Mom decided to do Easter dinner as a potluck, which had some interesting results. She made the ham with raisin sauce that she always makes (if she didn't, there's a good chance I would have boycotted!) and then everyone brought something. Earlier this week I asked what everyone was bringing, so I could be sure not to make a duplicate. Well… the answer included 2 kinds of potatoes, lasagna, baked beans, and collard greens. Interesting. I decided that I needed to bring some sort of vegetable to attempt to round that meal out (and I'm glad I did, because "collard greens" ended up being a white bean and spinach dish- hello carbfest!)
I decided that salad would be a good idea, but of course I didn't want to make any old boring salad because who would eat that when there were so many other goodies? So I included lots of fruit, cheese, pecans and a great dressing. This salad was both beautiful and delicious. And it all got eaten! I was secretly hoping for leftovers to bring home. But it was easy enough to make; I'm already planning on having it again. Topped with some grilled chicken or shrimp, this would make a great spring or summer meal.
Since I had to make this the night before, I tossed the cut fruit in a little lemon juice to keep it from browning, and I packed the dressing separately to keep it from getting soggy. It came out fine, but the pecans were a little soft and the lettuce wilted a little. Everything would have been crisper if it didn't have to sit. I added the dressing right before it was served- its the perfect amount for the salad, and I knew if I let people dress their own they would use way too much.
Springtime Salad
6 cups mixed greens, washed and drained
1 T butter, melted
1/2 c pecan halves
1 tsp cinnamon
2 shallots, thinly sliced (I used the slicing side of my new microplane box grater)
1 pear, thinly sliced
1 c strawberries, thinly sliced
1 wedge blue cheese, crumbled
1 recipe balsamic dressing (below)
Heat oven to 450. Toss pecans in butter and cinnamon. Roast for 5 minutes. Set aside to cool.
Meanwhile, fill a small bowl with very hot water. Add the shallots and let soak for 15 minutes (This will keep them crisp but will take away some of the oniony bite). Drain.
Toss all ingredients together. Serves 6 as a side dish or 2-3 as a main course.
Balsamic Dressing
3 T balsamic vinegar
1 T dijon mustard
1 tsp brown sugar
1/3 c olive oil
Combine the vinegar, mustard, and sugar in a small bowl. Mix well to disolve the sugar and fully incorporate the mustard. Slowly add the olive oil, while whisking vigorously to combine. After a few minutes of whisking, everything will emulsify and you'll be left with a nice thick vinaigrette.

By