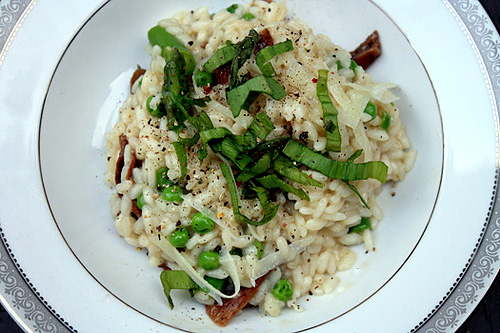 I've been craving a good risotto for about two week now- ever since I had a very disappointing one at Cafe Madison. I'm not even sure I would go as far as to say what the served me was risotto, except for the fact that I ordered it and knew what it was supposed to be. In addition to it being really loose and not creamy at all (seriously, it was more of a pilaf) the flavors were odd, and included big chunks of things like carrot. Really disappointing all around. This recipe though? This is how risotto is done! Absolutely delicious, and much cheaper to just make at home.
One thing I love about risotto is that just about anything tastes good in it, so it can be very seasonal. I used some nice spring asparagus and ramps in this. Unfortunately, I can never find a good selection of mushrooms here so I didn't have many options. The dried porcinis were perfect though- they added a nice heartiness to the dish, and I used some of the broth from rehydrating them to flavor the rice.
The key to making a good risotto is to cook it really slowly, stirring almost constantly. Keep it over medium heat and add the broth in small increments, allowing it to fully absorb before adding more. When you think the rice won't be able to hold any more liquid go ahead and add some more. It should take about 40 minutes to cook the rice properly.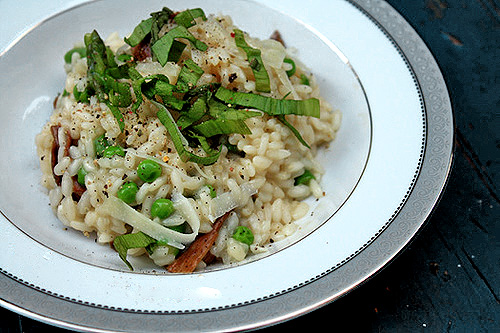 Springtime Risotto

1 c. boiling water
1 oz. dried porcini mushrooms
6 c. chicken broth
1/2 lb asparagus, cut into 1″ pieces
1 c. baby peas
2 Tbs butter, divided
1 Tbs olive oil
6 ramps (whites diced, greens chopped)
1 clove garlic, minced
2 1/4 c. arborio rice
3/4 c. white wine
2 Tbs parsley, chopped
1/4 c. shredded romano
cracked black pepper

Place mushrooms in a small bowl. Pour boiling water over top and set aside to hydrate.

In a small saucepan, bring broth to a simmer.

Fill a medium pot with water and bring to a boil. Blach asparagus 1 minute, then place immediately in cold water. Add peas to water.

Heat 1 Tbs butter and oil in a deep-sided pan over medium heat. When butter is melted, add whites of ramps and garlic. Cook until softened. Add rice, stirring well to coat with oil mixture. Cook about 3 minutes, or until only a small dot of white remains on each grain. Add wine as well as liquid from steeping mushrooms. Cook, stirring constantly, until dry. Add broth 1/2 c. at a time, allowing it to be fully absorbed before adding more. Continue this process doe about 20 minutes.

Heat remaining butter in a small pan. When melted, add mushrooms and cook over medium heat for 3 minutes. Add mushroom and melted butter to risotto. Stir in asparagus, peas, parsley and romano. Season to taste with pepper. Top with ramp greens.

Serves 6-8.
By