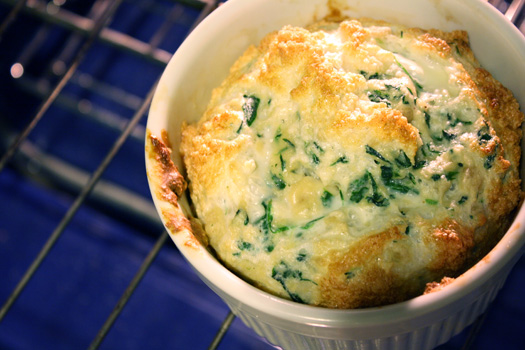 Sometimes I do crazy things.
We saw Julie and Julia this weekend, and I finally caught the Julia Child bug. I had some truffle butter that I bought a few weeks ago that I wanted to use tonight, so I bought a steak. I wanted to have something different on the side, so in true Julia form, I decided to make a souffle. Never mind that I've never made souffle before. Never mind that it's 90 degrees in the house. Never mind that I can't find the whisk part of my Kitchen Aid and the recipe required egg white beaten until stiff. Sometimes I do crazy things.
I ran into a few problems – my rammekin was the wrong size, I think the ratio of wet ingredients to dry ingredients in the recipe I used may have been off a little (my batter was very dry), I ran out of white flour and had to use mostly wheat, and I gave up beating those egg white a little before I should have because I thought my arm was going to fall off and I was drenched in sweat. But aside from that, this came out pretty good. It puffed up like it was supposed it. It was light and airy and slightly eggy. It had a great spinach flavor, without tasting very strongly of anything.
There were a few moments where I thought this wasn't going to work out. I even started to cook up some extra spinach in case it was inedible. I shouldn't have second guessed myself. Cooking isn't difficult – it's a science, but it doesn't need to be perfect in order to taste good. I choked because souffles are supposed to be intimidating. I shouldn't have cared. As Julia said, "you just have to have the courage of your conviction." If we never attempt the crazy in the kitchen,we never learn new things. This souffle may not have been perfect, but I know where I went wrong, and I know that I can do better next time. So here's my challenge to you: this week, do something new and scary in the kitchen; something that intimidates you. Don't be afraid of failure. Even if it comes out horribly, what do you lose? A few eggs and some milk? Not the end of the world. Let me know what you make, and if you succeed. I'll be waiting anxiously to hear your stories.
Bon Appetit.
Spinach Souffle
1 Tbs butter
1/4 cup flour, sifted
3/4 cup skim milk
salt and pepper
2 egg yolks, beaten
1/2 cup spinach, blanched and chopped
3 egg whites
Melt butter in a small saucepan over medium heat. Add flour and cook 2 minutes. Whisk in milk, salt, and pepper. Cook, stirring constantly to avoid lumps, for about 5 minutes or until the mixture thickens. Stir a little bit of this mixture int you egg yolks to bring them up to temperature, then whisk all of the egg yolks into the mixture. Let cook 2 minutes. Remove from heat and stir in spinach.

Beat the egg whites until they form medium to firm peaks. Fold egg whites into spinach mixture.

Butter a medium rammekin, then add the souffle mixture. Bake in a 400 degree oven until the souffle puffs up, the top turns golden, and the edges begin to pull away from the sides of the baking dish – about 20 minutes. Resist the udge to open the oven door white the souffle bakes- the vibration from it closing can cause it to fall. Remove from oven and serve immediately.

Serves 2-3.

****

In case you missed it, don't forget to enter my giveaway for a great insulated lunchbox, some food storage containers, and a pack of the new FiberOne yogurt!

By