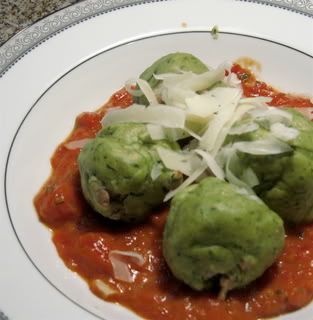 This past Valentines Day, I made lasagna. And I decided that I wasn't going to make pasta again until I got myself a pasta roller. Using a rolling pin for it isn't really that horrible, but is kind of a pain. Anyway, I got the pasta attachment for my Kitchen Aid a week or so ago, and I couldn't wait to play!
I decided that I wanted to try homemade ravioli. I decided on sausage because I really like those and they're hard to find in the store. I was originally going to make homemade chicken sausage for these, but then I decided that sounded like too much work. I bet it would be good though!
In order to up the nutritional value, I made spinach pasta and I used whole white wheat flour. Whole white wheat is really nice to work with because it has all of the nutrients and fiber that is found in whole wheat flour, but its soft like white flour and won't give you that grainy whole wheat texture. This is because it is made from white wheat rather than red wheat, which is harder. I swear you couldn't tell these were whole wheat at all! The flour can be a little tricky to find, but its definitely worth it (make sure to buy 100% whole white wheat and not whole wheat- white blend).
As for the shape of these… well, I gave up. I was frustrating myself trying to make "pretty" ravioli, because my pasta kept tearing. So I ended up just rolling the pasta sheets around the filling and making balls. I dubbed them "balliolis." I actually thought these were better because I could shove more sausage into them. My husband preferred the more traditional shape though because the balls didn't hold sauce very well. Either way, they were really good and are a fun weekend project. If you're looking for a weeknight pasta, make this into spaghetti and cook the sausage in the sauce instead!
Spinach and Sausage Balliolis
4 cups fresh spinach
2 cups whole white wheat flour
1 tsp salt
3 eggs
2 T olive oil
1/2 lb ground sausage
1 recipe sauce (follows)
Grated Romano cheese to taste
Bring a large pot of water to a boil. Add the spinach and cook until it turns bright green and softens about 2 minutes. Drain spinach and wring as much water out of it as possible. Chop finely.
In the bowl of your food processor, combine spinach, flour, and salt. Add eggs, 1 at a time, and continue to mix. Add 1 T oil, and mix until the dough comes together to form a single ball. Rub ball down with remaining oil, wrap in plastic wrap, and let sit for 30 minutes so the gluten can relax.
Meanwhile, brown your sausage in a frying pan, draining as much oil off as you can.
Roll out your pasta either with a rolling pin or a pasta roller. You want to create sheets that are about 4 inches wide, roughly the same length, and thin enough so that you can see your hand through them. Lay out sheets to dry for a minute or two. Then take one sheet, and spoon a little sausage onto it- you'll want about 1 tsp sausage per 3 inches of pasta length. Continue spooning on sausage down the length of the pasta. Then top with another pasta sheet. Press down to seal the sheets around the sausage and cut ravioli apart with a knife. Roll each ravioli around in your hand to form a sealed ball, or if you have the patience, crimp around all edges with the tines of a fork for a more traditional shape.
Boil for about 2 minutes, or until they float to the top and the pasta is cooked. Serve with homemade sauce and romano cheese.
Makes about 24 ravioli, which will serve 4. Complete with sauce, each serving clocks in at around 460 calories.
Easy Pasta Sauce
1 large can whole peeled plum tomatoes
1 clove garlic, minced
2 T chopped fresh Italian Seasonings
Combine all ingredients in a food processor and blend until smooth. Transfer to a large straight edge skillet, and bring to a boil. Reduce heat and let simmer for about a half hour, until it reduces to about 2 cups of sauce.