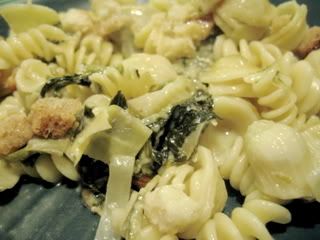 Now that lent has started, I'm on the the lookout for good meatless recipes. I'm not normally a huge fan of Rachael Ray (sorry Mo!!) but I had the day off the other day and flipped her on… she was making a spinach and artichoke dip inspired mac and cheese that sounded so good I knew I would have to steal the idea. Her recipe can be found here. The fontina-parmasean combination really wasn't working for me- the dip has a tangyness to it that was going to be missing. There was really also no way to lighten it up using those cheese. I also added a breadcrumb topping because I felt like it was silly to have "dip" without some bread.
This reheats beautifully in the microwave, and can be easily served as a main dish or a side dish.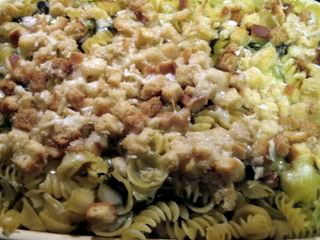 1 lb pasta (I used what was left from a few boxes- made for a nice mixture)
3 tablespoons butter
1 large onion, chopped
3 cloves garlic, minced
3 T. flour
1/2 c white wine
2 c. milk (I used fat free)
1 bag baby spinach
1 can water-packed artichokes, quartered
Ground black pepper
1 c. reduced fat Mozzarella, shredded (reserve a little for the top)
1/2 brick reduced fat or fat free cream cheese
1/4 c. bread cubes
1 tsp butter, melted
1. Boil pasta in well salted water, according to package directions.
2. Melt butter in a very large pot. Sautee onion and garlic until soft. Add flour and cook 1 minute. Add wine. Cook 3 minutes.
3. Add milk. Bring to a boil. Reduce heat and add vegetables. Cook until spinach is wilted. Add cheeses, stirring well until melted and combined with sauce.
4. Toss bread cubes in melted butter to coat.
5. Drain pasta. Toss with sauce. Transfer to a casserole dish. Top with reserved cheese and bread cubes. Bake at 350 until top brown and cheese bubbles- about 30 minutes.
Serves 8.