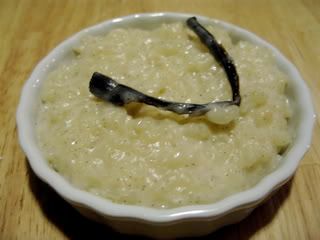 Try not to eat this all straight from the pot! Its amazing warm. The vanilla is nice and spicy! Super simple to make, and it barely has any sugar. Sorry for posting two dessert recipes so close to each other. I have a cold and I don't feel like cooking, writing, or honestly eating. Dinner is going to be subway and some soup. Then it'll be early bedtime for LK!
I stole this recipe from Smitten Kitchen, which is one of my all-time favorite blogs.
1/2 c Arborio rice
4 cups fat free milk
1/4 c sugar
1/2 vanilla bean, split into four pieces (heads up; cheap vanilla!)
1 bay leaf
3/4 tsp almond extract
Combine everything except the extract in a medium saucepan. Bring to a gentle boil, then reduce heat to a simmer. Stir occassionally to keep bottom from burning. The mixture will be very thin for about 25 minutes, but all of a sudden it will start to come together. After 30-40 minutes, rice will be tender and plump, and milk will have thickened into a pudding. At this point, remove from heat and stir in almond extract. Split into 4 servings, and top each with a piece of vanilla bean (which will have softened to a nice, chewy raisin-like texture. Yummy and spicy!)
Oh yeah, while we're on the dessert theme… check out this awesome giveaway Mo is hosting for low fat doughnuts!