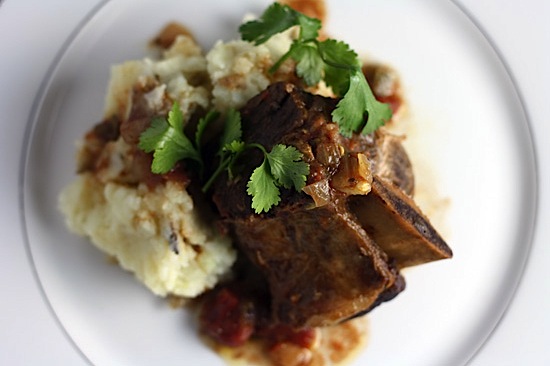 One day last weekend, I was looking for an excuse to not leave the house so I decided to braise something. I feel like although I've been doing a lot of braising this winter (thanks to Julie and Julia, which has us all craving Boeuf Bourgignon in August!!), I hardly ever use my oven. I obviously use it when I bake, but it's so rare that I do something like roast a chicken and the oven just never gets used for cooking. I takes so long! You have to wait for it to preheat, then it takes forever to actually cook your food…. so it's the stovetop for me the majority of the time. Every once in a while if I'm snowed in (or want to pretend I'm snowed in!) I take advantage of the time at home to make a delicious braised dish. Like these short ribs, which simmer away all afternoon until the meat falls right off the bone and is tender as can be.
Instead of doing a traditional Italian braise, I decided to put a southwestern twist on my ribs, using beer and tequila as my liquids and adding a jalapeno and some chili powder to the pot. The flavor turned out great – it wasn't spicy or beer-y at all, but it had a nice little southwestern kick. In order to develop the recipe I used the "Create your own" feature on the Fine Cooking web site. The feature walks you through the recipe and lets you drag different combinations of ingredients into the "pot" – then at the end it gives you a recipe that you can follow to recreate the dish n a real kitchen. I always play around with the feature, but I had never actually cooked one of the recipes before. I was impressed! Although you ned to pay attention to what flavors will go well together and make sure you have a good balance of richness and acidity, it's a great way to put a fun, personal twist on a recipe that you aren't that familiar with.
For any of you that have never had short ribs before, it's similar to pot roast with a slightly firmer texture – fork-tender and succulent meat, with vegetables that cook down into a nice sauce. I served these with mashed potatoes (with sour cream instead of milk) to serve with my ribs. They were a great way to soak up the extra sauce!
(Note that this dish isn't exactly healthy – short ribs are very fatty. If you really want to lower the fat and calories, you could use a leaner cut of beef. But for a special treat, the short ribs are worth it!)
Southwest Short Ribs
4 8-ounce beef short ribs, trimmed
1 Tbs. vegetable oil
Kosher salt and ground black pepper
1 medium onion, diced
3 ribs celery, chopped
1 bay leave
1 clove garlic, minced
1 jalapeno, chopped
1 tsp. ancho chile powder
1/4 cup tequila
1 cup canned crushed tomatoes
1 cup light beer
Juice from 1/2 a lime
Chopped fresh cilantro

Preheat the oven to 325.

Heat the oil in a large stockpot or dutch oven. Season the ribs with salt and 1 tsp. pepper, then cook in batches – being careful not to crowd the pan – until browned on all sides (3 to 4 minutes per side). Transfer the ribs to a platter and repeat with the remaining ribs. Pour off all but a thin layer of fat from the pan.

Add the onions and celery to the pan. Season with a pinch of salt. Cook, stirring and scraping up any browned bits on the bottom of the pan, until the vegetable are soft, 6 to 8 minutes. Add bay leaf, garlic, jalapeno, and chile powder. Cook for 1 minute.

Deglaze the pot with tequila, stirring to scrape up any browned bits on the bottom of the pot. Cook for 1 minute, or until reduced to about 2 Tbs.

Add all the ribs back into the pot. Pour the tomatoes and beer and 1 cup water over the ribs. Bring the liquid to a simmer, cover, and put the pot in the oven. Cook, turning the ribs occasionally, until they are fork tender, about 3 hours.

Transfer the ribs to a serving platter or dish. Let the sauce and solids sit in the pot for a few minutes to cool and with a shallow spoon, skim off as much of the fat as possible from the surface. Season the sauce to taste with salt and pepper, and stir in the lime juice. Sprinkle with chopped cilantro.<

Serves 4.
Approx. 614 calories, 40 grams fat, 2 grams fiber, 41 grams protein
By