I love acorn squash, but I usually only ever have it one way – baked with butter, brown sugar, and maple syrup. I've been eating it that was ever since I was a kid and its delicious. Like candy. But I don't really think my dinner should taste like candy, which is why I decided to switch it up this time and take a more savory approach to the squash. Erika from Itzy's Kitchen inspired me to try stuffing the squash – she's been making some beautiful stuffed squashed lately that are packed with vegetables and look wonderful. Like the pumpkin gnocchi with mushrooms and chestnuts that I posted the other day, this dish went through a few incarnations before I settled on the final version: a southwestern styles acorn squash stuffed with black beans and chorizo and toped with melted cheese.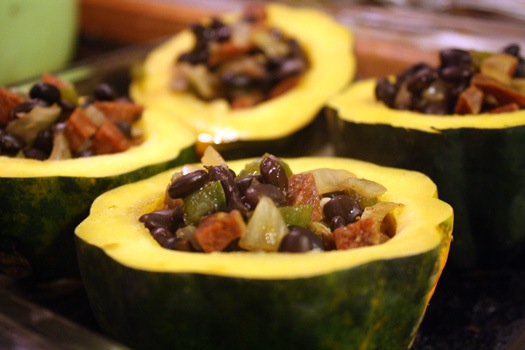 I was really happy with the way this dish turned out! Sweet-spicy combinations are come of my favorites, and I loved the way that the spicy chorizo tasted against the slightly sweet squash. I did end up having to add a little bit of sugar to the squash – I was trying to avoid adding any, but I felt that it really needed a little bit. I didn't add very much at all, but even just that little bit transformed the whole dish. I also really liked that there really wasn't anything fancy in this dish – it was made with ingredients that I had on hand, and it just came together as I cooked. It was also really cheap to make!
The chorizo that I used in this is hands down the best chorizo that I've ever had. It's Imperial Chorizo from Fultonville, NY. The co-op had three different flavors, and of course I went with the "picante." It was awesome – really flavorful, with just the right amount of spice to be hot without being overpowering. It was a little pricy at $6.50 for a package, but I only used about a third of it and I thought it was definitely worth it. Love this stuff! This was the dry, cured chorizo too – I know some of you mentioned that you were having trouble finding fresh, so this should be a little easier. If you see the Imperial brand, I highly recommend it!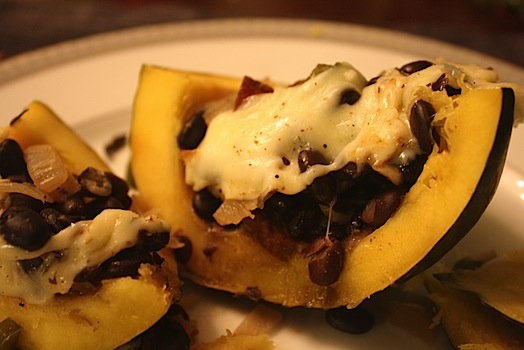 Southwest Stuffed Acorn Squash
2 small acorn squash

1 Tbs olive oil

1 white onion, chopped
1 clove garlic, minced
1/2 green bell pepper, chopped
1.5 cups black beans
1 tsp oregano
2 tsp cinnamon
2 tsp cumin
1 pinch smoked paprika
1 cup chicken stock
3 oz. Spanish (dry cured) chorizo, diced
1 Tbs brown sugar
1 oz. queso oaxaca, shredded
cracked black pepper
Heat oven to 350.

Cut squash in half and scoop out seeds. Place squash cut-side down in a baking dish. Pour 1 cup water into the pan. Bake for 30 minutes, or until soft.

Meanwhile, heat oil in a large sautee pan over medium heat. Add onion and garlic. Cook about 5 minutes, or until onion softens and begins to brown. Add pepper, and cook another 3-4 minutes to allow it to soften slightly. Add beans, spices, and stock. Cook for about 10 minutes or until liquid has evaporated, stirring occasionally. Stir in the chorizo.

Divide brown sugar between the squash halves, sprinkling it into the cavity where the seeds used to be. Divide bean and chorizo mixture between squash. Top with cheese and black pepper. Return to oven for 5 minutes, or until cheese has melted.

Serves 4.

Approx. 350 calories, 13 grams fat, 9 grams fiber, 16 grams protein

****

I am submitting this post to this week's BSI: Acorn Squash roundup, being hosted by Mega Nerd Runs.

****

If you have not done so already, I would really appreciate it if you buzz my cioppino in the Bertolli Sauces contest. The top three entries, as determined by the number of votes, will be demonstrated and served at the Foodbuzz Festival next month. Thanks to you all for helping me to get this far!

By