Hopefully you know enough about me by now to know that I don't mess around when it comes to dessert. I'm just not going to waste time (or calories) on something that isn't totally decadent. That whole "black bean brownie" trend just wasn't for me. But I'm going to stop beating around the bush and come out and say it: these cookies have dry peas in them. And they were amazing. I promise!
I was 100% prepared for these cookies to be a complete flop. I regretted tweeting about them because I just knew that the recipe wouldn't be good enough to post. But you know what? Not only were they not a flop, they were some of the best cookies I've made in a long time! Extra moisture from rehydrated and mashed peas makes them really fudgy and brownie-like, while the delicate gluten-free flour keeps them light and tender. The deep chocolate and peanut butter flavor masks any potential hint of pea-ness. Even Shawn, who doesn't usually touch sweets, proclaimed these his favorite gluten-free cookies, helped himself to seconds, and asked me if I would make more.
In keeping with the gluten-free nature of this challenge, I used a sample of King Arthur gluten free multi-purpose flour that I've had in my cabinet for forever. If you aren't concerned with gluten, substitute cake flour rather than all-purpose flour, to maintain the delicate crumb of these cookies. Because gluten-free flour can taste a little chalky when it's warm from the oven, these cookies are great to make ahead. We liked them better the next day! If you plan to eat them the same day that you bake them, be sure to allow them to cool completely.
Although peanut butter chips don't include wheat in the ingredient list and appear in many gluten-free recipes, they are not certified gluten-free. If you have celiac or a severe gluten sensitivity, you can substitute chopped, dry-roasted peanuts to avoid any risk of contamination.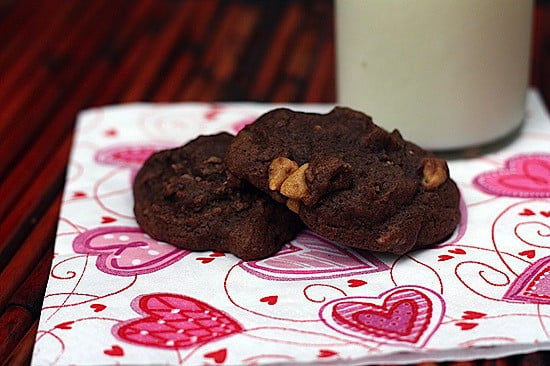 Soft & Fudgy Chocolate Pea-nut Butter Cookies

Yields 2 dozen
1/4 cup Dry Yellow Peas
1/2 cup Water
1/4 cup Butter, softened
2/3 cup Sugar
1 tsp. Instant Espresso

3/4 cup Multi-Purpose Gluten Free Flour or Cake Flour
1/4 tsp. Salt
1/4 cup Cocoa Powder
1 tsp Baking Powder
1 cup Peanut Butter Chips
Combine the peas and water in a small saucepan over medium heat. Bring to a boil, then simmer for 30 minutes, or until peas are soft and water has been absorbed. Use the back of a wooden spoon to mash the peas into a thick paste.
In a medium bowl, beat the butter and sugar until smooth and fluffy. Beat in the mashed peas and instant espresso. Combine the flour, salt, cocoa powder, and baking powder. Gently stir the dry ingredients into the wet ingredients until just combined. Stir in the peanut butter chips. Chill dough for at least 15 minutes and as long as overnight.
Heat oven to 350. Drop rounded Tablespoons of dough onto a greased cookie sheet. Bake for 9-12 minutes, or until the edges are set and the tops begin to dry.
Cool cookies completely before serving.
******
Giveaway time – AGAIN! Chicago Metallic is another sponsor of this year's Dry Pea and Lentil Challenge. They sent me one of their new winged cookie sheets and they'll send another to one of you. I'll be honest and say that I hadn't heard of this company before, but I'm impressed with the cookie sheet that they sent. The nonstick surface is super slippery, and there's a little "speed bump" around the edge to keep your cookies from sliding off. The winged design (which is pretty genius!) makes it super easy to get the hot pan in and out of the oven. (Chicago Metallic is also donating $5 from the sale of each pan to Share Our Strength.)
Want to win? Leave a comment telling me the most creative way you've used dry peas or lentils. If you've never made anything creative with them before, just tell me the most creative idea that you'd like to try. I'll pick a winner on May 30.
Once again, I have to limit this contest to US addresses… sorry!
(While you're at it, have you entered my Le Crueset giveaway yet?)
****
I am participating in the US Dry Pea and Lentil challenge by posting several gluten-free recipes using dry peas and lentils in the month of May. As a challenge participant, I received a stipend for groceries, samples of US dry peas and lentils, and some cooking supplies from the US Dry Pea, Lentil, and Chickpea Council. I was not compensated in any other way for this post. As always, all opinions are my own and all recipes are original.