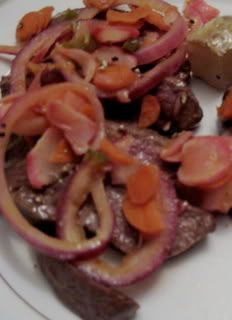 You know that game where you try to decide what you're least meal would be if you were on death row? I was never very good at it. How could you pick just one thing? Then I made this. This is it- my "last meal" meal.
The recipe is from Fine Cooking magazine, and its recipes like this that I keep my subscription for. In general, I find that their meals are very time consuming and have far too many calories. But when I find something like this that can easily be lightened up and cooked without slaving over the stove the entire day, I rememeber why I love the magazine so much. This. is. delicious.
Now the steak… well, its nothing all that special. Its good, but its really just steak. I have plans to cook it on the grill when the snow melts though. I think a nice char will take this entire recipe to astronomic heights. The pickle on the other hand… that's where the magic is. I made a double batch, and there was none left. None. I was skeptical, since radishes instantly bring back memories of elementary school cafeteria salads. But these are a long way from that. I crave these. Seriously. Look at that gorgeousness.
As suggested in the magazine, I served this meal with roasted potato and mushroom salad with marscapone. It was good, but I don't think I'll bother next time….I'll serve the steak and the pickle over a salad or in a tortilla to lighten the meal up even more.
Radish and Onion Pickle;
drizzle of olive oil for the pan
3 Tbs apple cider vinegar
drizzle honey
1 Tbs cooking sherry
1 tsp. coriander
Kosher salt and freshly ground black pepper
1 bunch red radishes, thinly sliced
1 carrot, thinly sliced
1 small red onion, thinly sliced
1 medium jalapeño, seeded and thinly sliced
Combine first 6 ingredients in a small saucepan, and bring to a simmer over medium-high heat. Add vegestables and toss to coat. Cook until vegetables begin to soften, about 5 minutes. Set aside until ready to eat.
Steak marinade:
2 lb. skirt steak
1/4 c olive oil
juice and zest from 1 orange
2 Tbs. Dijon mustard
2 tsp. honey
1 tsp. crushed red pepper flakes
4 medium cloves garlic, minced
Poke steak full of hole with a fork. Combine steak and all other ingredients in a large dish. Let marinade for as logn as you have (I only let it sit about 20 minutes). Dry the steak off and sprinkle with kosher salt and black pepper. Sear in a hot pan or grill until medium rare. Serve with radish and onion pickle.