This simple shaved asparagus salad is one of my favorite meals lately – I've been making it about once a week and I never seem to get tired of it!
The first time I made this dish, I had actually planned to use the ingredients in a croque madame inspired asparagus tart. However, looking at the delicate spring asparagus, it seemed like a shame to subject them to the long roasting time required by that recipe. I had seen shaved asparagus salads before and figured that I'd give that a try instead. I'm so glad that I did! Shaving the asparagus into thin ribbons and cooking it just long enough to make it tender is the perfect way to highlight asparagus at the peak of its season.
Combined with salty bacon, buttery cheese, and a quick vinaigrette makes this some of the best asparagus you've ever tasted. I especially love the rich, velvety texture of the broken egg yolk as it coats the asparagus. As an added bonus, this salad is incredibly easy to make. If you can cook bacon, you can make this dish! Shaving the asparagus can be a little tedious, but once you get into a groove it only takes a few minutes. I find that its easiest to get smooth slices if I place my vegetable peeler at the stem end of the stalk and work my way toward the tip. If your asparagus is pencil thin, you can leave the tips whole. If not, use a knife to cut them in half.
To avoid dirtying another pot, I poach the eggs in the same water I use to blanch the asparagus – just remove the asparagus with a slotted spoon or a bamboo skimmer instead of dumping everything into a strainer.
I've made this a few times using different qualities of ingredients. While the salad is delicious every time, its simplicity means you can definitely taste the difference when you use better ingredients. I like it best with the thick-cut applewood smoked bacon sold at the meat counter, tarragon vinegar (it's not difficult to find – Heinz makes it!), and a good grainy mustard (my favorite is Maille Old World Dijon). As for cheese, I go ahead and use light Havarti – unlike other reduced fat cheeses, this one is buttery and smooth. Regular havarti or gruyere are also great substitutes.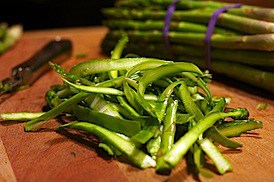 Shaved Asparagus Salad with Bacon & Havarti
Prep time: 10 minutes, Total time: 25 minutes
Yield: 2 Servings
4 slices

Bacon, thick-sliced Applewood is recommended

1 Lb.

Asparagus

2 ounces

Havarti (regular or light), shredded

2 Tbs

Olive Oil

3 Tbs

Tarragon or White Wine Vinegar, divided

1 Tbs

Dijon Mustard

2-4

Eggs
Salt and Pepper
Add the bacon to a large pan set over low-medium heat and cook until crispy. Bring a large, deep skillet full of water to a boil.

While the bacon is coking, use a vegetable peeler to shave the asparagus into paper-thin ribbons (I get about 6-8 ribbons per stalk). Submerge the asparagus ribbons into the boiling water for 1 minute. Remove with a slotted spoon and drain on paper towels.

Reduce heat under the water to bring it down to 190 degrees — the water will steam and may move around a little in the pan, but it won't quite be to a boil. Add 1 Tablespoon of vinegar to the water. Gently crack in the eggs, working in batches if needed to prevent to eggs from crowding the pan. Let the eggs poach for 4 minutes, then remove with a slotted spoon.

In a small dish, whisk together the olive oil, remaining vinegar, and mustard. Crumble the bacon. Combine the asparagus, bacon, and cheese in a large bowl and coat with the dressing. Season with salt and pepper.

Divide the asparagus salad between two plates and top with the poached eggs.

****

I'm submitting this recipe to Super Sunday at Kahakai Kitchen!

By